Coyotes notebook: Gormley accepts 1-year deal; Domingue off to Europe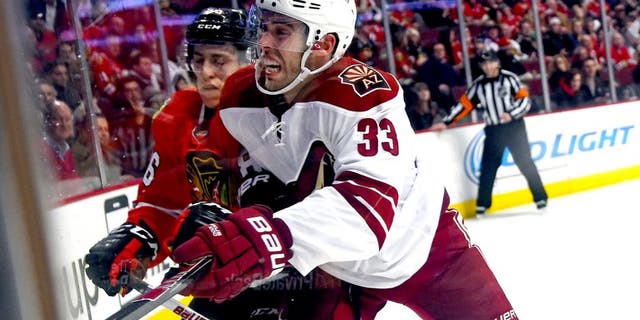 GLENDALE, Ariz. -- Coyotes restricted free agent defenseman Brandon Gormley has accepted the team's one-year, two-way qualifying offer, Coyotes general manager Don Maloney said Thursday. The contract hasn't been formally filed yet.

Gormley made $810,000 last season, so the Coyotes had to qualify him at 105 percent of that salary, or $850,500. He would still make $67,500 in the AHL (Springfield), but he would have to clear waivers to be sent down.
Gormley, 23, was the Coyotes' first-round (13th overall) pick in 2010 and was once touted as a premier prospect. He appeared to have made strides toward earning a permanent NHL job last fall when he made the team out of camp, but he suffered a lower-body injury and never regained his form after it, rotating in and mostly out of the lineup while also playing 23 games with the team's former AHL affiliate in Portland.
He played in 27 NHL games last season, scoring two goals and totaling four points. He has appeared in 32 NHL games over two seasons.
"He's at a stage where it's either fish or cut bait, to be honest," Maloney said. "This offseason and training camp are very important for him. The good thing is, we have roster room available for him to get the job if he earns it."
DOMINGUE TO EUROPE
Maloney said restricted free agent goalie Louis Domingue has opted to play in Europe next season, although Maloney isn't sure for which team Domingue will play. Domingue, 23, wanted the chance at more playing time than he was in line for at either the NHL or AHL levels.
Maloney said Domingue's departure opened up the roster spot the Coyotes used to sign goalie Niklas Treutle to a one-year, entry-level contract on Wednesday.
Treutle, 24, went 20-10 with a .923 save percentage and a 2.06 goals against average in 30 games with Munich EHC (Deutsche Eishockey League) last season. The 6-foot-2, 185-pound native of Nuremberg, Germany, also posted a 3-0 record and a 1.33 GAA in three games with Riessersee SC (Deutsche Eishockey League 2) in 2014-15.
Domingue was the Coyotes' fifth-round choice (138th overall) in the 2010 NHL Draft. He played in seven games last season, posting a 2.73 goals against average with a .911 save percentage. He played 22 games between the AHL and ECHL.
Maloney said the Coyotes would still retain his rights for four more seasons.
ROSTER CONSTRUCTION
When the Coyotes' free-agent shopping spree had ended earlier this month, Maloney hinted at still adding a veteran wing and a puck-moving defenseman (preferably right-handed) to the roster, but he said Thursday that he is in no hurry, and those plans could be altered.
"I think it's probably unlikely we do anything until we get to (training) camp," he said. "We're still very interested in adding another defenseman, if it makes sense to us, versus a forward. But rather than signing maybe a mid-level veteran forward, we're pretty adamant about leaving opportunities open for our younger players."
Maloney said he continues to field calls on a daily basis from agents and teams, but the asking prices are too high, so he is comfortable waiting until camp.
"There's still a number of teams actively trying to move money out by offering us other assets to take players, but my bigger caution is simply not filling up the roster with one-way contracts," Maloney said. "We'd like to get our young players into camp and do some evaluation before we start filling all our holes."
As for the remaining free-agent crop, Maloney said "there's still a couple fairly big names out there, but I don't think they will ever get to the price where our level of interest is."
There have been rumors about Arizona's interest in 27-year-old (he turns 28 in a week), right-handed defenseman Cody Franson, but the free agent's asking price and term are likely too high for the Coyotes.
SCHWAB'S ROLE
New prospects goalie coach Corey Schwab is going to travel a lot. Schwab is based in Seattle. The Coyotes' AHL affiliate is in Springfield, Mass., and its ECHL affiliate (Gwinnett) is in Georgia. Then there are the assorted junior leagues he must canvas.
Schwab, 44, joined the Coyotes on Tuesday after spending the past eight seasons in a similar role with the San Jose Sharks. Schwab will be responsible for the Coyotes' goaltending prospects at the AHL, ECHL and amateur levels. He will also be responsible for goalie evaluations that may help steer the Coyotes toward potential free agents (backup Anders Lindback is on a one-year deal).
"I'll be looking at goalies coming from juniors, college or even Europe," Schwab said. "I'm sure it will all balance out, but I will be commuting wherever I need to go."
Schwab said he reached out to Maloney when the Sharks changed coaching staffs this spring, firing head coach Todd McLellan and his entire staff in an announcement that was termed a mutual parting of ways.
While Schwab will certainly rack up frequent flyer miles, there is one goalie he'll be able to watch a lot. The Coyotes drafted 19-year-old Adin Hill with their second third-round pick (76th overall) in June. He plays for the Portland (Ore.) Winterhawks of the Western Hockey League.
"That will be my shortest trip," Schwab said, laughing.
Schwab was an AHL (Albany) teammate of Coyotes development coach Steve Sullivan and Coyotes senior advisor for business development and alumni relations, Cale Hulse.
He said Wednesday he hasn't had the chance to talk to newly hired Coyotes goalie coach Jon Elkin yet, but he expects to do a lot of coordinating when it comes to philosophies and teaching methods. He also expects to attend training camp in September.
Follow Craig Morgan on Twitter