Coyotes license plates now available for Arizona vehicles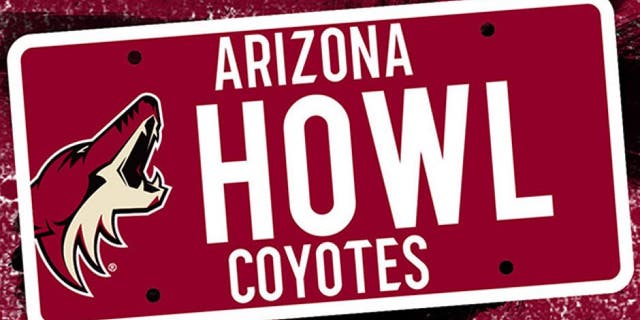 Arizona Coyotes license plates are now available for purchase. The plates can be ordered at servicearizona.com or at any Arizona Motor Vehicle Division or Authorized Third Party office.
"We are very excited that Coyotes license plates are finally available in Arizona," said Coyotes Co-Owner, President and CEO Anthony LeBlanc. "We hope our great fans purchase the Coyotes plates to show their support for our team and the Arizona Coyotes Foundation."
The color of the Coyotes license plates will be predominantly "Coyotes red" and will feature the official Arizona Coyotes head logo. The plates are available in standard format (6 characters) as well as disability format (5 characters).
Fans making a first-time purchase for a non-personalized plate will be charged $25. A fee of $50 will be assessed for personalized plates. These fees will be charged at the time of each registration renewal. The Arizona Coyotes Foundation, which supports non-profit organizations serving children and servicemen and women in the program areas of healthcare, education, cultural arts and youth sports in the State of Arizona, will receive $17 from all license plate fees collected.