Coyotes insist they're not giving up after trading 3 veterans for draft picks, a minor leaguer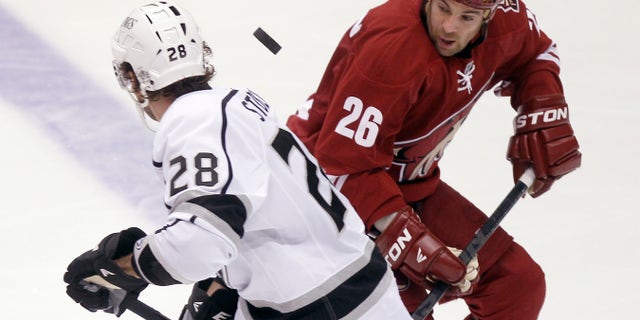 GLENDALE, Ariz. – The Phoenix Coyotes unloaded three veteran players from their roster for a minor leaguer and two draft picks at the trade deadline.
On the surface, it looks like a team giving up on the season.
The Coyotes insist the three deals were necessary moves for a team that's under the financial restraints of being run by the league for the fourth straight season.
Phoenix is just two points out of the final Western Conference playoff spot with 12 games left and trading Raffi Torres, Steve Sullivan and Matthew Lombardi was more about the future than the rest of this season.
"This is not surrendering the white flag," Coyotes assistant general manager Brad Treliving said on Wednesday. "This is doing what we have to do from a management level to maximize the assets we need to maximize and give opportunities to people we think deserve opportunities."
Torres, a gritty forward who played two seasons with Phoenix, was traded to San Jose for a third-round draft pick in this year's NHL draft.
He missed the first eight games of the season while serving out the remainder of a 21-game suspension for a hit on Chicago's Marian Hossa in last year's playoffs and retooled his game to avoid some of the questionable hits that had gotten him in trouble in the past.
Torres played with his same pestering style — minus the borderline hits — and had five goals with seven assists in 28 games with the Coyotes this season.
A former Coyotes player, Lombardi returned to the desert just before the start of the lockout-shortened season after being traded from the Toronto Maple Leafs. He hoped to regain his speed and scoring touch back in Phoenix, but instead was plagued by injuries and inconsistent play.
Lombardi missed 12 games early in the season with an upper-body injury and was a healthy scratch on March 25 against Detroit after failing to register a point in seven straight games. He had four goals and four assists in 21 games with Phoenix before being traded to Anaheim for left wing Brandon McMillan, who's played most of this season with Norfolk of the AHL.
Sullivan signed as a free agent during the offseason and was expected to fill the playmaking role left open with Ray Whitney's departure. Sullivan showed flashes of brilliance, scoring five goals with seven assists in 33 games, but hadn't registered a point in the last 10 games.
Sullivan was honored by the Coyotes before Tuesday night's game against the Los Angeles Kings after playing in his 1,000th career game last week, but was traded the next day to New Jersey for a 2014 seventh-round draft pick.
All three veterans were set to become unrestricted free agents after the season and the Coyotes are still without an owner, so the team decided to trade them.
"Where we are at now, with our ability to sign these players going forward and into next year, we felt it was prudent to see what kind of assets we could recoup and provide an opportunity for some of the players we have in the minor leagues at Portland (Maine)," Treliving said.
Phoenix has already gotten a nice lift from Rob Klinkhammer, who extended his points streak to five game with an assist against the Kings on Tuesday night, and the team called up Chris Brown and Chris Conner after completing the three trades.
"We're not asking anyone to come up from Portland and be a savior, but we feel they can provide us with an energy and a spark as we move forward and try to make the playoffs," Treliving said.