Coyotes hire Rick Tocchet as head coach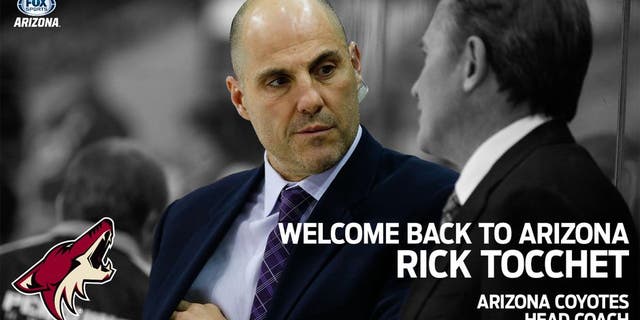 GLENDALE, Ariz. -- Rick Tocchet, who has experience as both a player and an assistant coach with the Coyotes, will replace Dave Tippett as the 18th head coach in franchise history.
Tocchet, an assistant coach with the Stanley Cup champion Pittsburgh Penguins for the past three seasons, signed a multi-year contract with the Coyotes on Tuesday.
Tocchet will be introduced at a press conference at Gila River Arena at 1 p.m. Thursday. The press conference will be streamed live on FOX Sports GO.
"We are very pleased to name Rick as our new head coach," general manager John Chayka said in a statement released by the team. "Rick is an excellent coach and a proven winner. While with the Penguins, he won a Stanley Cup as a player and two cups as a coach. He's experienced, knowledgeable and is a great leader and communicator. He's also a former Coyotes player and assistant coach and the perfect fit for us. We're thrilled to have him rejoin our organization."
Tocchet, 53, played parts of three seasons with the Coyotes (1997-2000) and was an assistant on Wayne Gretzky's staff for the 2005-06 season.
"I'm extremely happy to be back with the Coyotes organization," Tocchet said. "I loved playing and coaching here in the Valley and have always considered Arizona my home. We have a great young team with a ton of talent and I'm excited about leading this group of players. I'd like to thank Mr. (Andrew) Barroway and John Chayka for this incredible opportunity. I can't wait to get started."
Tocchet had an 18-year NHL playing career and was a four-time NHL All-Star. He totaled 440 goals, 512 assists and 2,972 penalty minutes while playing in 1,144 games with the Philadelphia Flyers, Pittsburgh Penguins, Phoenix Coyotes, Los Angeles Kings, Boston Bruins and Washington Capitals. He won the Stanley Cup as a member of the Penguins in 1992.
He played 213 games with the Coyotes, accumulating 64 goals, 66 assists and 371 penalty minutes.
He began his coaching career as an assistant in Colorado before being hired by the Coyotes.
He joined the Tampa Bay Lightning as an assistant coach in 2008, was promoted to interim head coach one month into the season and served two seasons as the Lightning's head coach, compiling a 53-69-26record from 2008 to 2010.