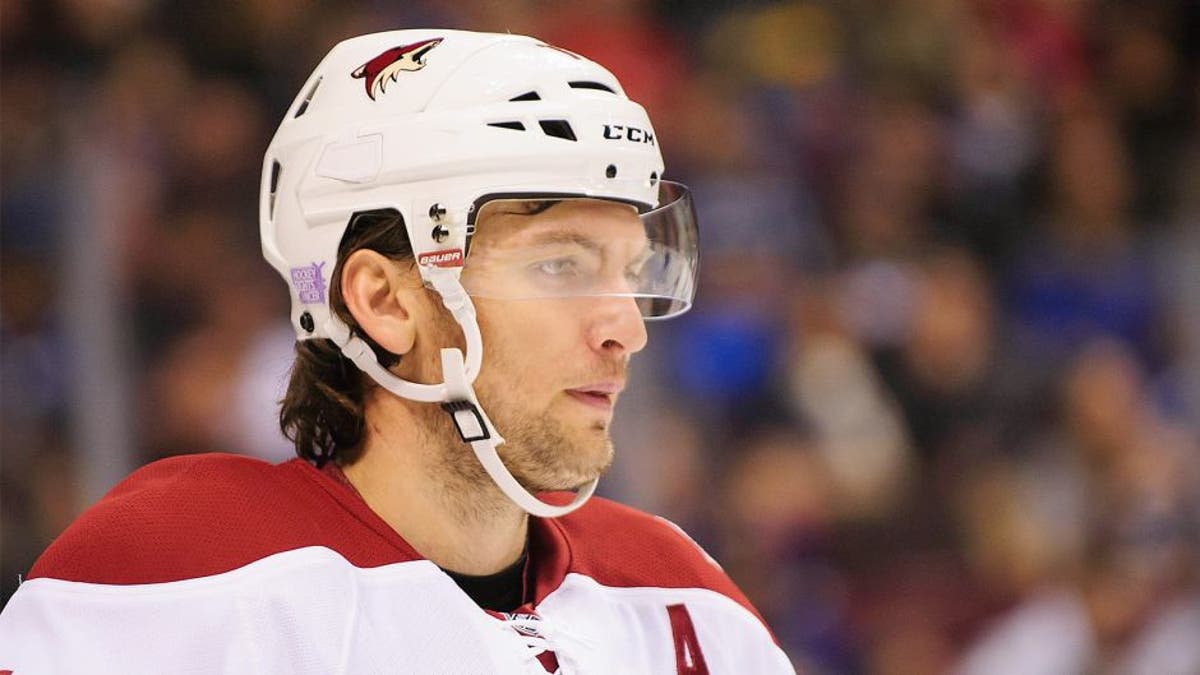 GLENDALE, Ariz. -- Coyotes strength and conditioning coordinator J.P. Major paid a visit to Martin Hanzal in the Czech Republic last month to check in on Hanzal's progress after back surgery.
"I think he's more famous than me," Hanzal joked. "I've seen more stories about him lately."
Hanzal should retake the popularity lead soon. The Coyotes' do-everything center is healed and ready to return after a seven-month NHL hiatus.
Hanzal had surgery in mid-February to repair the same herniated disc on which he had an operation in July 2008. After some recovery time and off-ice rehabilitation, Hanzal started skating a couple months ago and said he will be ready to go when Coyotes training camp begins in early September.
"That was the reason I decided to go have the surgery during the season," he said. "We knew where the season was going and we wanted to make sure I would be ready for camp."
Hanzal last played and scored a goal on Jan. 29 in Toronto, but he knew something was wrong well before that game. The 2008 surgery was supposed to alleviate the problem but Hanzal said he experienced pain off and on over the past few seasons and it steadily "got worse." He started feeling greater pain and numbness around Christmas, 2014. He said it was "the exact same thing" he experienced in 2008.
"I had pain that was shooting down my left leg and there were days where I couldn't feel my leg," he said. "They kind of cut the piece out that was pushing on my nerve and that was the reason I couldn't feel my leg. Now it's all good; all healed up."
Hanzal specifically asked the Los Angeles specialist who performed the surgery, Dr. Robert Watkins, if he would experience the same issue the rest of his career.
"He said if I stay on top of it with treatment and strengthening, I should be fine," Hanzal said. "It's basic stuff; keeping my core strong by doing abs every day, good stretching before every game and after every game, and getting a good massage."
Hanzal, 28, is signed for two more seasons at an annual salary of $3.5 million. He hasn't played more than 65 games in a full season since 2009-10 and he had 24 points in 37 games last year.
Some outsiders have criticized his lack of durability, but his coach and several of his teammates, including captain Shane Doan, have called him the most valuable forward on the team.
"When you look at the teams in our conference, he can play head-to-head with those big centers and he touches a lot of different situations for us," coach Dave Tippett said. "In a hard game, he's one of those guys that helps you win."
Tippett acknowledged that Hanzal's style is such that injuries will probably always follow him.
"It's a concern, but hopefully with this last surgery, it's something we took care of," Tippett said. "And hopefully, he puts the work in to keep it strong. We're going to make sure we give him every resource to take care of himself because he's such an important player on our team."
Hanzal doesn't worry about outside perceptions, but he does understand fans' frustration with the number of games he's missed.
"It's frustrating for me, too that I haven't played all 82 games," he said. "It's part of my job to take punishment. I'm a physical player and I'm trying to do my job as well as I can. Tip is counting on me every night. I want to make sure I'm not going to disappoint him."
The Coyotes added three free-agent centers in the offseason, bringing back Antoine Vermette while signing Brad Richardson and erstwhile Coyote, Boyd Gordon. Hanzal doesn't think their presence will ease the pressure he faces as a shutdown center and a net-presence player, but he sees great benefit in adding those players.
"Boyd's really strong on faceoffs and Vermy and I are, too -- and so is Richardson -- so it's a really good group of centermen on faceoffs," he said. "It's actually nice to have four really solid NHL centermen. It's tough to get good centermen but it's really important in the Western Conference. We added some players that are going to help us, for sure."
Hanzal has spent much of his summer in the Czech Republic, and has seen former teammate Radim Vrbata a couple times. He returns to the Valley on Thursday and will likely start taking part in informal skates on Friday as the Coyotes look to erase the bitter taste of last season's 56-point effort.
"No one wants to see that again," he said. "We drafted a good young center and we have some young guys who want to make the team. It's all going to help push us."