Coyotes coverage for FSAZ: These were a few of my favorite things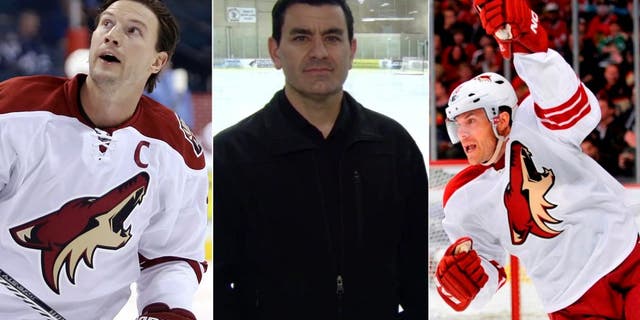 NEWYou can now listen to Fox News articles!
My iPod houses an eclectic collection of music, comprising every known genre and some that defy categorization. On Wednesday evening, I had it set to shuffle when Andy Williams' version of "My Favorite Things" came on.
We're still four months out from Christmas, but Williams' holiday album was the one my family listened to most when I was growing up in suburban Chicago. I love to torture my wife and kids with it.
On this particular occasion, it carried added significance because this is the last story I will write for FOX Sports Arizona. I'll be starting another job (I'll announce that soon), so the song had me waxing nostalgic.
Coyotes reporting has comprised the majority of my time with FSAZ, so here are a few of my favorite things, covering this underdog franchise for the past five seasons.
The 2012 Western Conference Final run: Some writers take playoff runs for granted because they cover perennial contenders in major markets where sustained success is easier. The Coyotes had never won a playoff series since arriving in the Valley in 1996, but in quick succession, they won their first Pacific Division title, they won their first playoff series against, of all teams, the mighty Blackhawks, and they advanced all the way to the conference finals before the Cinderella run ended. Remember Mikkel Boedker's two seeing-eye goals in overtime at United Center? Remember Raffi Torres' infamous hit on Marian Hossa? Remember Andrei Kostitsyn's and Alexander Radulov's late-night exploits in Scottsdale? Remember Derek Morris' fluke goal in the first period of Game 1 against L.A. that had you thinking, 'maybe, just maybe?' That unexpected run is rivaled only by the 2001 World Series when it comes to memorable sporting events I covered.
My so-called vacations: July and August are supposed to represent the offseason in the NHL, after free agency runs its course. In Arizona, it's the start of Glendale season. In 2013, IceArizona secured a vote by the Glendale City Council to approve an arena lease agreement by the skin of its teeth. I don't think I've ever written more copy in a two-month period in my professional career -- much of it while I was on vacation. There were so many twists and turns to the story, and one more came this summer when Glendale reneged on that same deal while I was on vacation in Denver. At least the sides were kind enough to hold off on a settlement until my second vacation stint had concluded.
Doan's hat trick: This is still one of my favorite game stories that I have ever written. Rather than rehashing it, let me share it again via this link:
What would Paul Bissonnette do next? Bissonnette was one of the most beloved Coyotes during his five seasons in the Valley. He had personality to spare, and he always had time to spare for the community. Those talents came together in this memorable moment:
Mike Smith's real goal and butt goal: You have to hand it to Smith. He has a flare for the dramatic. The Coyotes goalie became just the 11th goaltender in NHL history to score a goal when he beat the buzzer to polish off a season sweep of the Detroit Red Wings on Oct. 19, 2013. Then he "scored" one of the more unusual goals in NHL history two months later in Buffalo.
Another relocation rumor: First, the Coyotes were moving to Winnipeg. Then it was Quebec. Then it was Seattle. Then it was Las Vegas. Did I miss a city? Suffice to say, there has been a lot of shoddy reporting on this subject.
Unearthing never-before told stories: Like this one about Gilbert Brule.
Every conversation I ever had with Ray Whitney: Whitney never liked talking to the media. It's not that he disliked us (or maybe he just said that to make us feel better), he just didn't see any value in it. The problem was, every time Whitney opened his mouth, something of value came out. After Torres' hit on Hossa, Whitney diffused the situation with one of the best on-the-spot analyses I have ever heard. When the franchise's ownership limbo was broached, Whitney introduced issues that nobody had ever considered before, like the lack of an advocate when it came to league decisions. He was funny, he was articulate, and he had a knack for whittling concepts to their essence with clarity and concision. It also helped that he could play the game at a high level. He was a reporter's dream.
Engaging, interacting with and getting to know the Coyotes community: Social media has its drawbacks, most notably the pseudo reporters who break news or offer analysis without the benefit of adequate reporting, access to teams or a basic understanding of the standards of journalism. The chance to meet the fans in this community has far outweighed that, however. The Coyotes' instability helped forge a closely knit and knowledgeable fan base. Maybe it will be rewarded some day.
The great people with whom I worked at FSAZ: I don't want this to read like an acceptance speech, but before I go some thanks are in order. Thanks to Dave Lumia for hiring me a third time and always having my back. Thanks to Brett Hansen for retweeting everything I ever wrote -- even if it was garbage. Thanks to Todd Walsh for listening to me blab when he already knew 95 percent of what I was telling him. Thanks to Graham Taylor for reminding me to get to the set ... then reminding me again. Thanks to Jody Jackson for her impeccable professionalism. Thanks to Matt McConnell for that unique sense of humor. Thanks to Tyson Nash for verbally undressing me on the topic of Keith Yandle. Thanks to Heather Berry, Brian Henry and Rusty Francisco for at least trying to make me look good. Thanks to Chris Gabel for editing my late-night copy. It was a fun ride, folks.