Cowboys VP Jones says Bryant is ready to go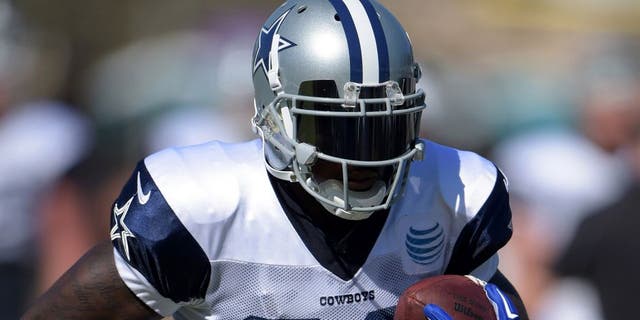 Cowboys receiver Dez Bryant did not play in Saturday's preseason game against the Minnesota Vikings at AT&T Stadium despite being suited up. However, Cowboys Executive Vice President Stephen Jones assures fans that Bryant is healthy enough to play and not lingering from a hamstring injury.
"There's not a question in anyone's mind that when we suit up against the Giants, he'll be ready to go," Jones said on KTVT.
The sixth-year receiver strained his hamstring on Aug. 8 and sat out the team's first two preseason contests. Right when Bryant appeared to make a full recovery, he had an awkward slip on the final day of training camp that the club insists did not re-aggravate the hamstring strain.
"We feel really good about Dez," said Jones. "Really think he's made a lot of progress. We have to remember that Dez didn't go through the competitive strength and conditioning program and all the off-season. So, that was the concern from day one.
"I think that we verbalized that we had some concerns about Dez getting right out there and going to work in a very competitive situation because he only knows one speed and that's 110 percent. So, for us to have that two to three weeks to really get him to go, that we think has ended up being a blessing in disguise."
Bryant was seen on live TV talking with head coach Jason Garrett, and Jones quipped that the two-time Pro Bowler was probably petitioning Garrett to let him play against the Vikings.
"Still trying to talk Jason into playing right there," Jones said. "I think everybody is starting to go, 'Send him off to the next guy.' Will probably be up in the perch looking for Jerry in his full uniform saying, 'Can I go in?'"
MORE FROM FOX SPORTS SOUTHWEST:
- PHOTOS: Cowboys Cheerleaders Auditions
- Preseason predictions for 2015 MLB season
- Ranking NFL quarterback salaries
- Oldest player on every NBA team
- College football's highest paid coaches in 2014