Cowboys' Spillman probed for alleged sex assault at team hotel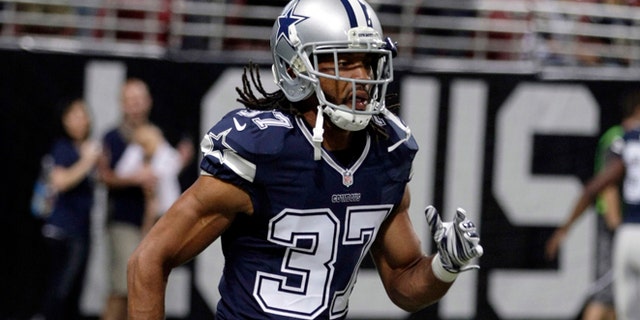 GRAPEVINE, Texas – With his coach's backing, C.J. Spillman returned to the Cowboys practice field Thursday as he awaits the results of a police investigation into his role in an alleged sexual assault last month at a suburban Dallas hotel.
"I'm not going to make any comment on an investigation where there've been no arrests or charges made," coach Jason Garrett said. "Having said that, we've been very clear with our team about consequences that there will be if there is a situation where charges or arrests are made for a crime. We've been clear about that. That doesn't apply in this particular case."
Garrett declined to say when the team was made aware of the allegation. Police spokesman Sgt. Robert Eberling said Wednesday night that the alleged assault took place early Sept. 20 at the Gaylord Texan Resort and Convention Center in Grapevine.
The team flew to St. Louis later that Saturday, and the 28-year-old Spillman played against the Rams the next day. He has played in all four games, including last weekend at home against New Orleans, and is listed as a safety though he hasn't played on defense this season.
Spillman's agent, Ron Slavin, and attorney Bruce Ashworth declined to comment. Eberling said no other details were being released because the investigation is ongoing.
"He'll take part in everything with our football at this time unless the circumstances change," Garrett said. "You have to be careful with just accusations and allegations in this situation. When someone is officially charged or arrested for something, that's when it becomes a different situation in our minds. For now, he's a member of our football team and will take part in everything we do to this point."
The NFL has offered to interview the alleged victim "on a confidential and appropriate basis to obtain more information." League spokesman Greg Aiello said the NFL has been "looking into the matter and will continue to do so."
The Cowboys signed the 28-year-old Spillman on Sept. 1, two days after the sixth-year player was among the final cuts by San Francisco. The former Louisville defensive back spent most of his first five seasons with the 49ers.
The alleged assault came less than 24 hours after NFL Commissioner Roger Goodell held a news conference to address concerns about the way the league has handled domestic violence cases. Goodell and the league were widely criticized over a two-game suspension for Baltimore running back Ray Rice after he knocked out his then-fiancee in a hotel elevator.
The commissioner later acknowledged the punishment was too light and said future first offenses in domestic violence cases would result in six-game bans. When an explosive video surfaced showing Rice punching the woman, he was released by the Ravens and suspended indefinitely by the league.
The NFL also has been rocked by a pair of assault cases last month that sidelined running backs Adrian Peterson in Minnesota and Jonathan Dwyer in Arizona. Peterson was indicted in Texas on felony child-abuse charges for using a wooden switch to discipline his 4-year-old son.
Dwyer won't play again this season after his arrest on aggravated assault charges. A law enforcement report says he head-butted his wife and broke her nose after she refused his sexual advances, and punched her in the face the next day.
Peterson and Carolina defensive end Greg Hardy are on a paid leave through a special roster exemption granted by the league. Hardy is appealing his conviction in a domestic violence case involving an ex-girlfriend in North Carolina.
San Francisco defensive lineman Ray McDonald is playing after he was arrested on suspicion of domestic violence at a home he shares with his fiancee. He hasn't been charged.