Cowboys RB signed $3.5M deal but still drives a car he bought for two bucks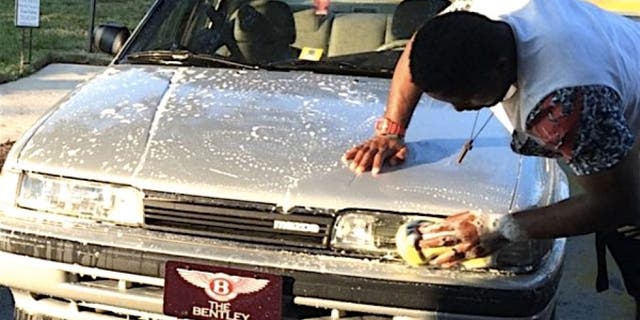 NEWYou can now listen to Fox News articles!
The Dallas Cowboys inked running back Alfred Morris to a two-year, $3.5 million deal earlier this offseason. It's the second NFL contract Morris has received after being a sixth-round pick in the 2012 draft. Because of the fact that he was taken so low four years ago, he wasn't signed to a lucrative deal like many first-round selections are.
He did, however, earn more than $3 million in those four seasons with the Washington Redskins. And now with $1.8 million guaranteed coming his way, Morris has earned himself plenty of money. Yet, he still won't give up his 1991 Mazda 626, which he bought from his pastor for $2 as a college junior.
"Yes, I still have my car," Morris said via Five Points Blue. "I still drive 'Bentley' which is what I call my car even though she's not really a Bentley. It's always going to be my baby and I'm going to drive it 'til she dies."
Morris received a substantial amount of publicity for his ride during his days in Washington, and Mazda even refinished it for him. But he wasn't going to leave the car back in D.C. He brought it to Dallas with him, though he didn't make the long trek in it.
Not because the car was going to fall apart, but because he had to get to Valley Ranch in short order.
"I had it shipped from Washington, D.C. I didn't get to drive it down because I had to get here so quickly for 'captain's workouts' after I signed with the Cowboys," Morris said. "They already had over 40 guys who were back for workouts. So I came quickly and was part of that. I had the car shipped and I'm driving it now."
The main reason why Morris still drives the car is because he's not a "flashy guy" and didn't grow up with much. So pushing a 25-year-old car reminds him of his past and keeps him with the right mindset despite being a millionaire.
There is, however, one thing that could cause him to get a new ride ... temporarily.
"With this weather right now, all the rain storms for the past couple of weeks, I'm like, 'Man, I don't want my car to get in an accident!' So I'm thinking of finding something else temporarily," he said.
Morris figures to be the No. 2 or 3 back behind Ezekiel Elliott this season, depending on how he performs alongside Darren McFadden in training camp.