Cowboys RB Darren McFadden frustrated in not practicing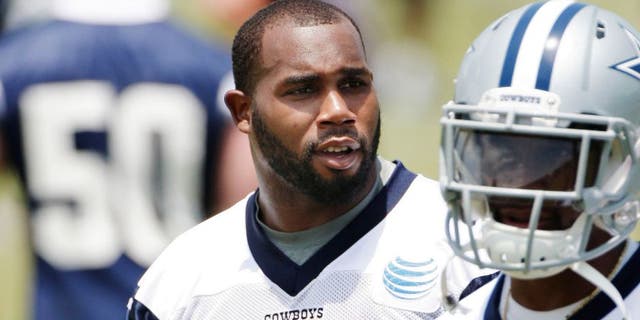 NEWYou can now listen to Fox News articles!
Cowboys running back Darren McFadden has been sidelined with a hamstring injury since the start of training camp, and time spent recovering and not playing has been annoying.
"It's very frustrating for me because I know the type of guy I am," McFadden told 105.3 The Fan [KRLD-FM] on Tuesday. "I love the game of football. I have a passion for it, and I just want to go out there and play at 110 percent and play it the right way."
Dallas placed McFadden on the PUP list to start training camp on July 30. There has been good news with McFadden's prognosis as he was taken off the list on Aug. 15. Since that time, the Cowboys have been slowly reintroducing the eight-year veteran to practice.
"I feel great," said McFadden. "Trainers are trying to ease me back into things. But as far as how I feel, I think I'm ready to get out there and go 100 percent. But they're going to be cautious dealing with a hamstring that can be tricky. So, they definitely don't want to rush it and delay it any further."
The 27-year-old from Arkansas, who spent his entire NFL career with the Oakland Raiders, appreciates the opinion of Cowboys trainers and the medical staff. According to McFadden, there have been times where he thought he has been able to return to practice, but ultimately discovered that his hamstrings weren't fully healed.
"It's been times where I feel like I'm ready to go and I get back out there and I'm not ready. So, I appreciate the way that they're going about it."
While McFadden has been rehabilitating his hamstring, fans have taken to social media to either encourage him in his recovery or deride him for continuing to add to what could be considered an injury-racked career. Nonetheless, former fourth overall pick in the 2008 draft tunes it out.
"Once you get on social media, everyone is a coach or a GM," McFadden said. "So, that's something that I try not to pay attention to and just try to keep my head up and keep pushing forward."
The St. Louis Rams are in Oxnard to hold joint practices with the Cowboys. For now, they are the only other NFL team McFadden will face as his status against the San Francisco 49ers in Dallas' second preseason game remains uncertain.