Dallas Cowboys quarterback Dak Prescott said President Trump was free to comment on the Cowboys' act of kneeling as a team before the national anthem was played on Monday night.
Prescott told The Dallas Morning News he was not paying attention to Trump's tweet claiming fans booed "the loudest I have ever heard" when Prescott and his teammates knelt with Dallas Cowboys owner Jerry Jones before walking to the sideline and standing for "The Star-Spangled Banner."
In a second tweet, though, Trump noted the team stood for the anthem itself and described that as "Big progress."
TRUMP SPEAKS WITH COWBOYS OWNER AFTER PROTEST: 'PLAYERS WILL STAND FOR COUNTRY'
On Wednesday, Trump tweeted about the Cowboys again, calling Jones a "winner."
Trump tweeted: "Spoke to Jerry Jones of the Dallas Cowboys yesterday. Jerry is a winner who knows how to get things done. Players will stand for country!"
Prescott said he wasn't about to critique the president.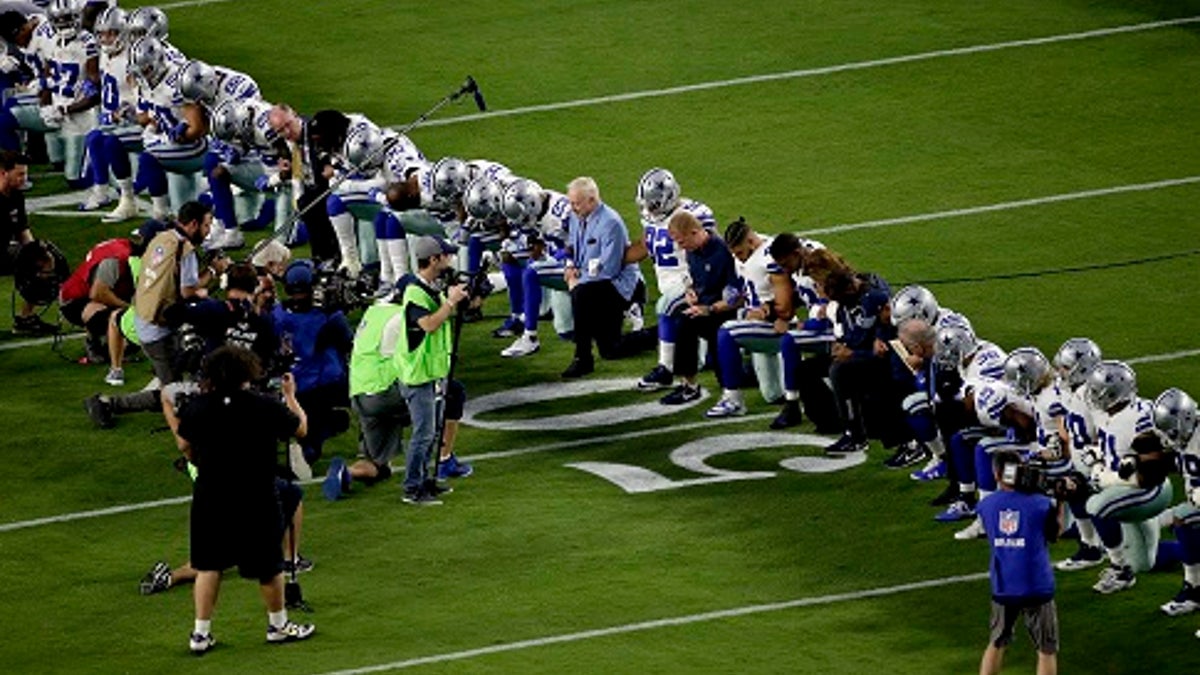 "That's between them, I guess," Prescott told the Morning News. "I'm not here to judge what the president said. I mean, he's free to speak just like the rest of us are. He's going to say whatever he wants. We've all figured that out."
He added: "For me, it's just about doing the best I can to help this team and show unity about what we're trying to accomplish in this country."
MONDAY NIGHT FOOTBALL: COWBOYS KNEEL BEFORE NATIONAL ANTHEM
Prescott said he has not had a chance to speak with Jason Witten, the team's tight end, about what the Cowboys will do during the playing of the national anthem before Sunday's game against the Los Angeles Rams.
Prescott said he has received positive feedback on the team's national anthem protest.
"It's all been positive feedback for me for the most part," Prescott said. "I'm sure it's something we will talk about with the team, with the coaching staff and figure out what we want to do, if we want to continue to do something like that going forward."
The Associated Press contributed to this report.