Cowboys' much-improved defense getting job done without sacks, but how long can that last?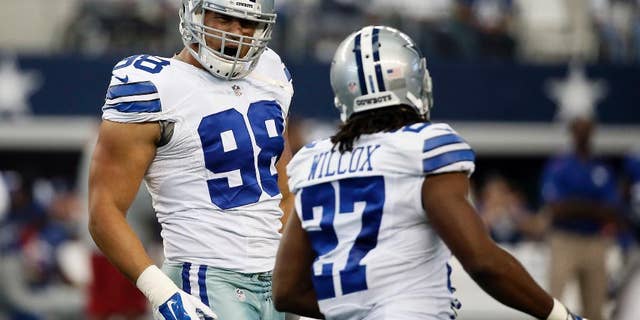 IRVING, Texas – Tyrone Crawford flailed his arms in frustration after chasing Eli Manning only to see the Giants quarterback throw a harmless interception last week.
The Dallas defensive tackle has to come up with a new way after every game to describe life without a sack, and the Cowboys have so few as a team. They're averaging less than one per game if you take away a tackle on a fake punt that counted as one.
And yet, improvement in the league's worst defense from a year ago is as big a reason as any for a 6-1 start, raising the question of whether the Cowboys can keep it up without getting the quarterback down more.
"They're going to have to start coming," said defensive end Jeremy Mincey, who also doesn't have a sack but is tied with Crawford for the team lead in quarterback pressures with 17. "We're emphasizing everything and working it every day. I know we'll click."
Crawford is tired of having to face defensive coordinator Rod Marinelli in the first meeting each week without a sack in the previous game. And it's getting to the point where he and his teammates have to make sure they don't obsess over sacks to the detriment of other duties.
"That's what I've been thinking maybe," said Crawford, who has alternated between end and tackle since he was drafted two years ago. "Just having a sack on your mind, going into the game wanting one so bad, that pretty much controls you."
It stands to reason that Dallas is close to the bottom of the league in sacks after releasing franchise leader DeMarcus Ware in a salary cap move and letting 2013 leader Jason Hatcher sign as a free agent with Washington (2-5), the next opponent on Monday night at home.
The Cowboys gave up their third-round pick in this year's draft to move close to the top of the second round and get DeMarcus Lawrence, but the rookie broke his right foot in training camp. He's now in his second week of practice and hoping to make his debut next week against Arizona.
The team's active leader is Anthony Spencer with 32 1/2, and he's still waiting for his first as well while trying to regain his form following knee surgery that sidelined him all but one game last year.
"We're working at it, believe me, and we're coming up short," Marinelli said. "But moving guys around, trying to get maybe the proper matchups. They'll come. We've just got to keep fighting."
Dallas has kept winning by limiting big plays and getting key stops, including game-clinching turnovers the past two weeks against Super Bowl champion Seattle and Manning's Giants.
The Cowboys have affected quarterbacks even without the sacks, though. They did get the Seawhawks' Russell Wilson down twice, but the more notable thing about the defense in that upset was cautious pressure to make sure Wilson didn't get outside. He was held to 12 yards rushing a week after getting a career-high 122, and Seattle had its worst offensive day this season.
"We do a lot of good things, but we're just leaving some good rushes out there," said defensive tackle Henry Melton, who came in this year as a free agent with Mincey and Terrell McClain and leads the team with 1 1/2 sacks.
Coach Jason Garrett wasn't so much worried about sacks as he was pressure against Manning, who wasn't bothered much beyond the play where Crawford came agonizingly close.
"You have to get more pressure with your down guys," Garrett said. "Maybe it's one-on-one rushes. Maybe it's rush games. Maybe it's bringing people. You can talk all you want about not having any sacks, but you also have to affect the guy."
Crawford is tired of talking about not having any sacks.
___
AP NFL website: www.pro32.ap.org and http://twitter.com/AP_NFL
___
Follow Schuyler Dixon on Twitter at https://twitter.com/apschuyler