Cowboys LB McClain could start season on PUP list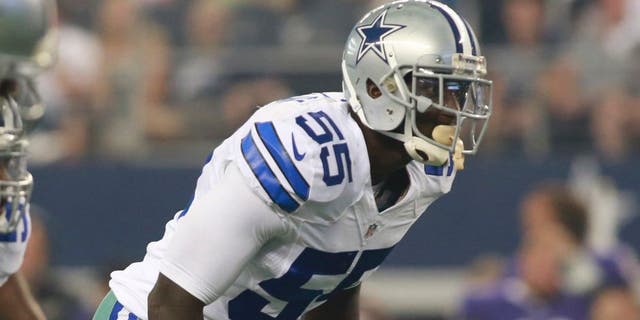 Jerry Jones intimated Thursday that linebacker Rolando McClain could start the season on the PUP list. The Cowboys owner, president, and general manager commented that linebacker would a position to watch in the third preseason game against the Minnesota Vikings at AT&T Stadium.
"I would look to see how the linebackers that are the veteran linebackers but aren't considered the starters, because they've got some competition from other linebackers that aren't playing tonight," Jones said on 105.3 The Fan [KRLD-FM]. "And, so, it makes for a real interesting dynamic: the fact that they will be playing, but their competition could come from a player that we're looking at putting on PUP that may not show up for two or three weeks, that that will be competition going on out here tonight."
McClain and rookie offensive tackle Chaz Green, a third-round selection, are the only two players currently on the physically unable to perform list. Even in McClain were to avoid the PUP list, a four-game suspension for violating the league's substance abuse policy would keep the fifth-year linebacker from making his Cowboys debut until Oct. 11 against the New England Patriots. If McClain were to go on PUP, he would be eligible to play Nov. 1 against the Seattle Seahawks.
MORE FROM FOX SPORTS SOUTHWEST:
- PHOTOS: Cowboys Cheerleaders Auditions
- Preseason predictions for 2015 MLB season
- Ranking NFL quarterback salaries
- Oldest player on every NBA team
- College football's highest paid coaches in 2014
- Highest paid player on every MLB roster