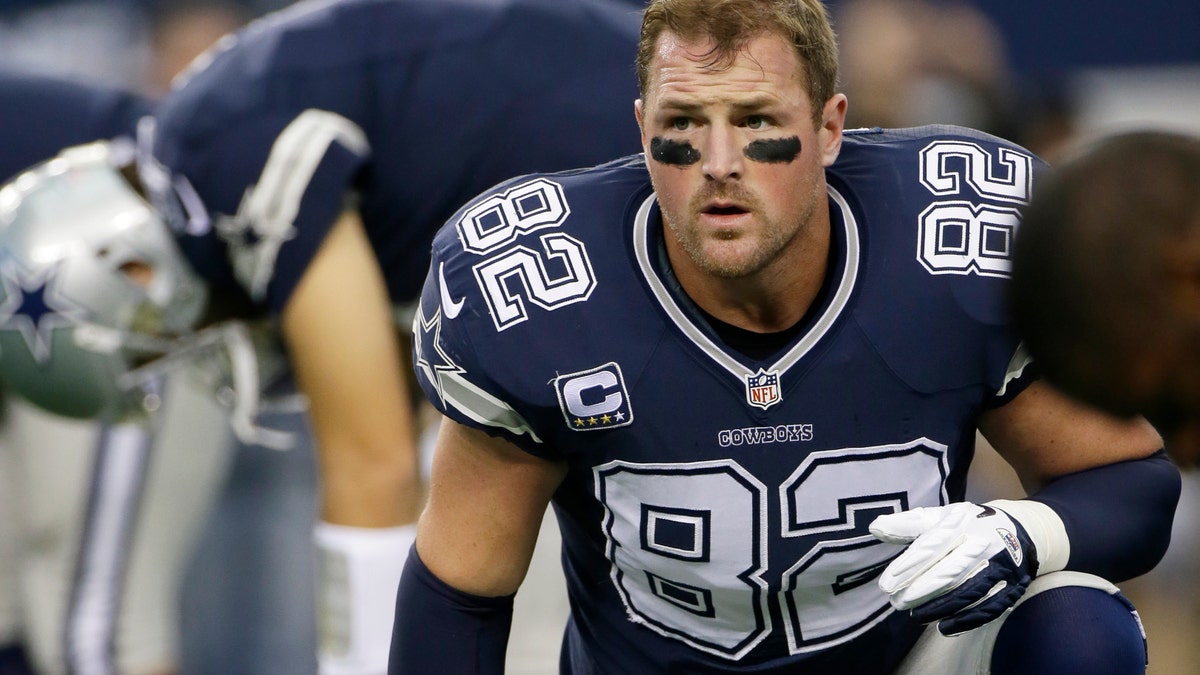 IRVING, Texas – Jason Witten's memorable "same old story" sound bite will resonate until the Dallas Cowboys change the ending and make the playoffs.
The star tight end made the comment before training camp last season, which ended with a loss in a playoffs-or-bust finale for the second straight year.
With the Cowboys coming off a blowout loss to Chicago and similar postseason scenarios brewing again, Witten is facing the same old questions with familiar candor and resolve.
"Look, until we do it, we're going to take criticism," Witten said. "I'm assuming your question is coming from the angle of, 'They haven't shown us that they can.' And you're right. That's what makes this game great. That's what is great about being in this locker room and going and doing it. We'll see where it ends up."
Green Bay (6-6-1) visits Dallas on Sunday with both teams clinging to playoff hopes.
The Cowboys (7-6) trail Philadelphia by a game in the NFC East with three remaining. As long as that deficit doesn't reach two games, Dallas can take the division and the playoff berth by beating the Eagles in the finale at home.
It could be the third straight year that Dallas finishes the regular season in game for a playoff spot with an NFC East rival — and a different one each time. The Cowboys lost at the New York Giants two seasons ago and at Washington last year.
Dallas did the same thing at Philadelphia in 2008, which means it could be the fourth time in six seasons that the Cowboys are set up for such an ending. Thus, Witten's remark last year.
"There's nothing I want more or we want more than to win a division and play in a home playoff game," Witten said. "But you've got to go do it. You can't make it emotional. It's all about execution come game day."
Witten still has faith in a defense that let Chicago score on its first eight possessions — just the fifth time that's happened since 1991. He's seen things out of the offense that make him believe the Cowboys can end a three-year playoff drought.
The 31-year-old and two-time All-Pro accepts the burden that comes with leading a proud franchise that has just two playoff wins since the last of five Super Bowl titles in 1995.
"Until you do it, you're going to feel that way," said Witten, who has matched his second-highest touchdown total with seven and is two shy of his career high. "I think right now you don't have time to go back and reflect. We're right in the middle of what can we do, what can I do for us to play our best football and win."
The Cowboys had a chance to start writing a different ending after answering a blowout loss to New Orleans with consecutive wins over the Giants and Oakland to get two games over .500 for the first time this season.
Dallas was facing a backup quarterback against the Bears in Josh McCown, but he accounted for five touchdowns and burned the Cowboys repeatedly in the passing game despite single-digit temperatures and sub-zero wind chill.
Cowboys vice president Stephen Jones questioned whether his players responded well to the elements, and Bears receiver Brandon Marshall said the weather had Dallas beat before the game even started.
"All I can say is, it was cold here, we prepared for that, we handled it in New York," Witten said, referring to beating the Giants in freezing temperatures three weeks ago. "We didn't play very good. I guess they can say whatever they want at that point. But I don't look at it as a concern."
Dallas again will face a backup quarterback against the Packers in Matt Flynn, who will make third straight start in Aaron Rodgers' place after the 2011 Super Bowl MVP was ruled out Friday.
The Cowboys will be without linebacker Sean Lee with a neck injury sustained against Chicago. They won two straight with Lee sidelined by a strained hamstring, and have to win again or risk losing control of their playoff fate.
Witten says that message is clear.
"I think he's definitely a vocal leader," tackle Doug Free said. "He says some things here and there but overall, we all know where we're at."
The Cowboys have certainly been here before.
___
AP NFL website: www.pro32.ap.org
___
Follow Schuyler Dixon on Twitter at https://twitter.com/apschuyler