Cowboys front office remains confident in QB Brandon Weeden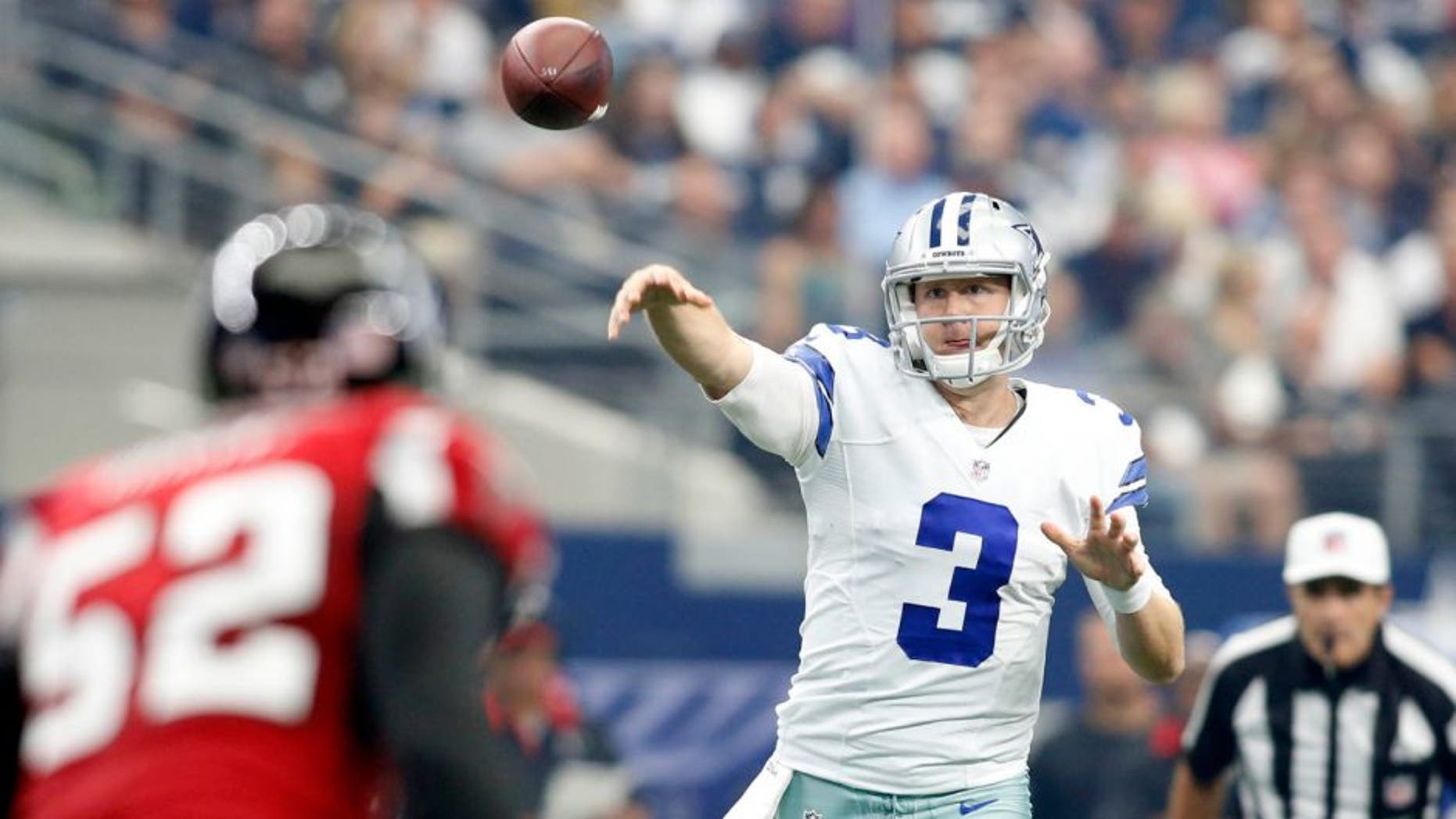 IRVING, Texas -- Despite a second-half collapse against last week that saw the Atlanta Falcons score 22 unanswered points en route to a 39-28 final score, the Cowboys front office still stands behind backup quarterback Brandon Weeden.
"He played a hell of a game the other day," Cowboys COO Stephen Jones said of Weeden, who finished 22-of-26 for 232 yards and an interception. "Now we would like to, when they start to tighten in on us, you have to look to the outside and get it to your outside receivers. And if they are going to tighten in like that you have to make them pay. we got some good outside receivers. We have to get the ball to them. That would be the only negative."
On 12 attempts in the second half, Weeden only attempted one deep pass on second-and-12 late in the third quarter intended for Terrance Williams. The other 11 passes were short attempts to running back Lance Dunbar and tight end Jason Witten. Receiver Cole Beasley caught one of those short passes for a six-yard completion.
Jones doesn't blame the conservative approach on any lack of confidence on Weeden's part, but rather the four-year pro diligently following the game plan.
"I think a little bit of it to is that we coached him to be very conservative, especially when we started off with a good first half," Jones said. "You didn't want to go out and make mistakes that would hand the game to them. So a lot of that was us a little bit about how we coached him all week, too. It was to protect the ball and be conservative. It worked well in the first half. Anyway, we will have to adjust and go from there."
Even though Weeden will remain under center until quarterback Tony Romo returns from a fractured left clavicle, the team philosophy under head coach Jason Garrett is to always create competition, even at the backup quarterback spot. Dallas certainly lived up to that ideal when they shipped a fifth-round pick from 2015 to the Buffalo Bills for quarterback Matt Cassel and a 2017 seventh-round selection.
"I think Jason said that there is always a competition. It's different when you're Tony Romo or you're Tom Brady or Peyton Manning. Everybody knows it's their team. I think Brandon understands Cassel is in here. If he doesn't play well, he knows there's a competition there. I think Jason has been pretty clear about that."
MORE FROM FOX SPORTS SOUTHWEST:
- PHOTOS: Cowboys Cheerleaders Auditions
- Ranking NFL quarterback salaries
- Highest paid player on every NFL team