Cowboys first team impresses in preseason loss to Vikings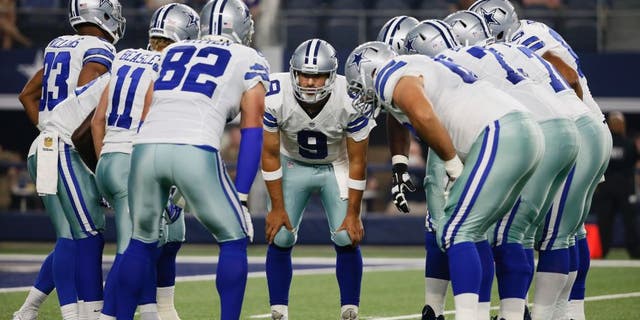 NEWYou can now listen to Fox News articles!
ARLINGTON, Texas -- The Dallas Cowboys may have fallen 28-14 to the Minnesota Vikings at AT&T Stadium, but the first team showed Saturday they were ready for the games that count.
Quarterback Tony Romo completed five passes on eight attempts for 88 yards and two touchdowns to earn a 139.6 passer rating. Second-round defensive end Randy Gregory got his third preseason sack with the first-teamers, and cornerback Brandon Carr intercepted a Shaun Hill pass. The first team left the game with a 14-10 lead.
"It was good," tight end Jason Witten said. "We knew coming into tonight that we were going to get to play more and really wanted to set our identity of what our football team offensively. I thought we didn't play fast, but we picked it up and put two good drives together."
The Vikings took a 3-0 lead with a 28-yard Blair Walsh field goal with 1:14 left in the first quarter. The Cowboys came out the next drive and Romo hit receiver Terrance Williams for a 60-yard touchdown to take a 7-3 lead on the first play of the second quarter.
"It was great communication with Tony," Williams said. "I just needed to find him a target to throw the ball to. He did a great job in taking his drops and finding me. The biggest thing is to stay friendly with the quarterback, and I just ran through the ball and scored."
Dallas gave up a 107-yard touchdown on the following kickoff to Cordarrelle Patterson to give Minnesota a 10-7 lead.
"We didn't get the job done," said Garrett. "We didn't run well enough. We didn't hem them in. We didn't tackle them, and that's a big play in the ball game. We had just made the big play, and then to kick the ball off, for them to be able to answer it with that big play, that certainly hurt us."
The Cowboys a couple series later took a 14-10 lead when Romo found undrafted rookie receiver Lucky Whitehead for an eight-yard touchdown on first-and-goal from the Minnesota 8-yard line.
""It was good for those guys to get some work tonight," Garrett said. "Early on, we got bogged down a little bit by the penalties, but once we eliminated those, we got some good field position and cashed in down in the red zone."
Minnesota added a 45-yard field goal with 1:05 left before halftime to trim the Cowboys lead to just one point.
The Cowboys backups on defense gave up a three-yard touchdown run by Dominique Williams, and then quarterback Taylor Heinicke found tight end Chase Ford in the back of the end zone for a two-point conversion to give the Vikings a 21-14 lead in the third quarter. In the fourth, Minnesota running back Joe Banyard scored a seven-yard touchdown rush to extend the Vikings' margin to 28-14.
Darren McFadden led all Dallas running backs with four carries for 37 yards, while Joseph Randle carried the ball six times for 15 yards. Lance Dunbar had one carry for one yard.
Fullback Tyler Clutts and Whitehead led Cowboys receivers with two catches; Clutts for 20 yards, Whitehead for 13. Receiver Cole Beasley caught a screen pass for six yards, and tight end Gavin Escobar had a five-yard catch.
The Cowboys defense compiled an interception by cornerback Brandon Carr, and linebacker Jasper Brinkley also recorded a sack. Carr led the team with three tackles as did defensive tackle Davon Coleman and safety Barry Church.
MORE FROM FOX SPORTS SOUTHWEST:
- PHOTOS: Cowboys Cheerleaders Auditions
- Ranking NFL quarterback salaries
- Highest paid player on every NFL team
- College football's biggest video boards