Cowboys coach says injured Tony Romo 'looked good' during medical exam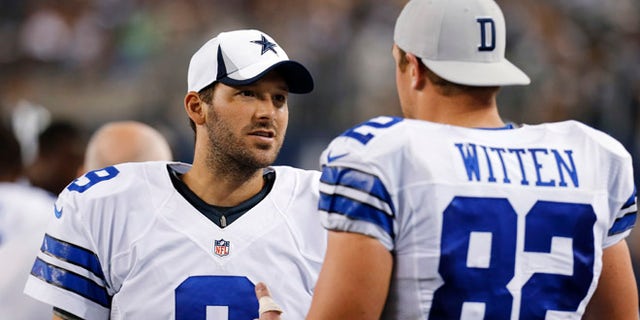 LANDOVER, Md. (AP) – Injured Dallas quarterback Tony Romo "looked good" during an examination by team doctors before Sunday's 27-23 victory at the Washington Redskins, according to Cowboys owner Jerry Jones.
The 36-year-old Romo is sidelined after breaking a bone in his back when was tackled awkwardly during an exhibition game — his fourth back injury in less than four years.
Jones called Sunday's check "medical protocol" and added that Romo's progress will depend on the QB's "own ability to heal."
"Hopefully, soon he'll be out of the dangerous stage," Jones said, noting that could be in about two to three weeks.
With Romo out, rookie fourth-round draft pick Dak Prescott has helped Dallas start the season 1-1 in a pair of NFC East games against the New York Giants and the Redskins.
Prescott has not turned the ball over once so far. On Sunday, he was 22 of 30 for 292 yards, plus a 6-yard touchdown run.
Like us on Facebook
Follow us on Twitter & Instagram