Cowboys bring back 'Romo Wednesday' during practice week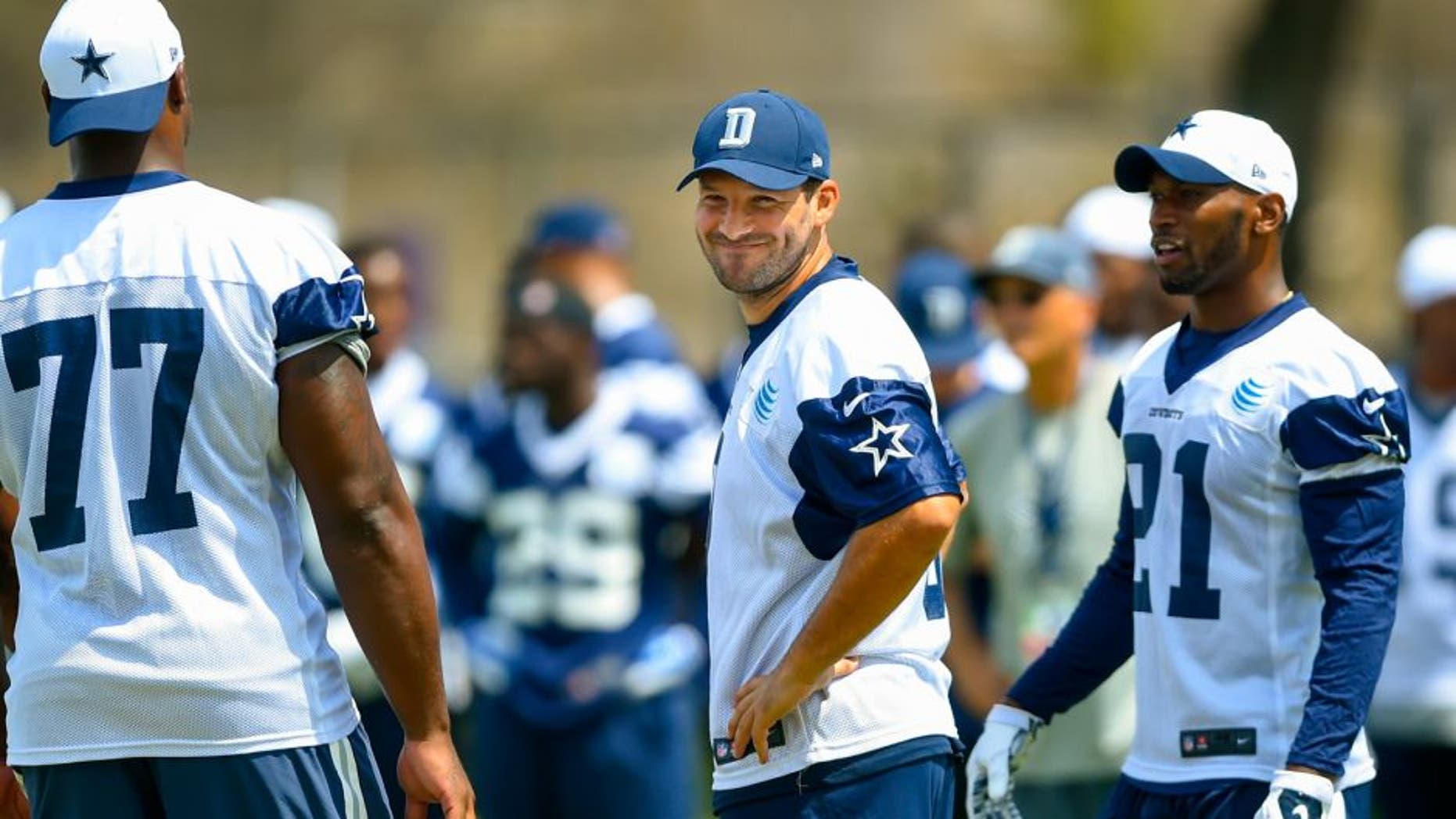 If it ain't broke, don't fix it -- or so the Cowboys seem to think, at least.
The Cowboys held their first practice of the regular season on Wednesday morning, as they began installing their game plan for the opener against the Giants.
They did so without Pro Bowl quarterback Tony Romo, though that's hardly cause for concern. Cowboys coach Jason Garrett said that, for this week at least, Romo will adopt the same practice routine that saw him take a rehab day during Wednesday practices.
"For this week we're going to do the schedule we did for most of last year, which was he didn't practice Wednesday, and then we get back into the mode again on Thursday," Garrett said.
Romo had one of the worst games of his season in the season opener last year, which prompted the coaching staff to limit his workload during the ensuing weeks. Rather than undergo a full practice on Wednesday, he took the day to rehabilitate his surgically-repaired back.
It clearly worked, as the Cowboys 12 of the next 15 games en route to the NFC East title and a playoff berth.
Garrett said he hasn't decided if Romo will maintain the routine throughout the season, but it seems plausible that he will. The Cowboys have spoken before about desiring to keep Romo from practicing three days in a row before a game, and the off day allows him that rest.
"What we've talked about with him in the past is the idea of three days in a row," Garrett said. "He was involved in the walkthrough this morning and got all those reps. He's not going to be involved in practice, and then we'll get back into the regular routine tomorrow."
Romo was the team's only absence of note as they get into the meat of their preparations for Week 1. Anthony Hitchens, who has been out with a foot injury, returned to the field during the early portion of practice.
Dez Bryant also took part in the early portion of practice, which was open to the media. Garrett declared Bryant a full-go for Week 1 after a hamstring problem limited him for the majority of training camp. Devin Street also returned to the practice field after a foot problem held him out of the last week of camp.
"We do anticipate guys being out there. Even the guys who have been out there for a little bit, we anticipate them practicing today -- maybe in a more limited fashion," Garrett said. "But we do expect a full complement of guys out there at practice."
MORE FROM FOX SPORTS SOUTHWEST:
- PHOTOS: Cowboys Cheerleaders Auditions
- Ranking NFL quarterback salaries
- Highest paid player on every NFL team