'Cowboy' Cerrone: You've got to know what you put in your body, that's it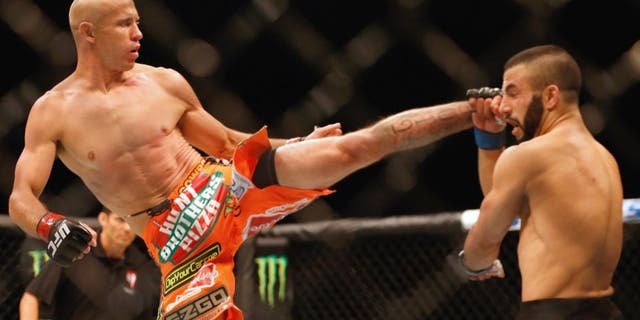 Donald "Cowboy" Cerrone isn't exactly the type of fighter who sits around and dwells on wins or losses, but it still doesn't sit well with him what happened this past December when he fell short in his bid to become lightweight champion in a 66-second fight against Rafael dos Anjos.
Cerrone was definitely melancholy at the post-fight press conference, where he allowed the emotions of the moment to sink in, but immediately afterwards the only thing on his mind was getting back into the Octagon as quickly as possible and booking a matchup with his next opponent.
"Right away, immediately, you know that," Cerrone said about the timing of his fight when speaking with FOX Sports. "I'm going after it right away again. Maybe I can get on the March card, April card, there's some big fights coming up so I'd like to get on any of those."
As far as taking anything from his last performance, no one ever gives a more candid answer than Cerrone, who lays it out in painfully honest language even if it comes to his own detriment.
"That fight was 12 seconds long. I went out there and got my f--king ass kicked," Cerrone said. "I don't have anything to reflect on or engage. So it's like who knows? I felt good. If you would have asked me the day before the fight, I felt good and I was going out there to win. I felt fine I just didn't show up on fight day."
Thankfully, Cerrone didn't have to sit and stew about the loss for very long because the UFC quickly came calling with another offer to give him a fight in Pittsburgh this Sunday in a main event bout at welterweight against Tim Means.
Unfortunately, Means was flagged for a potential anti-doping violation by the United States Anti-Doping Agency and pulled from the fight. Means has claimed innocence since the test result was revealed, but Cerrone doesn't exactly buy his excuse.
Cerrone says the same can be said for Olympic silver medalist Yoel Romero, who also returned a positive test surrounding his fight last December before claiming that he was a victim of a tainted supplement.
"I thought that Yoel Romero and Tim Means got the only two tainted bottles of protein in the world. I thought it was crazy," Cerrone said with sarcasm in his voice. "You never know with these companies, you've got to be careful. Everyone should know -- there's tainted s--t out there. You've got to know what you put in your body. That's it."
With Means out of the fight, the UFC replaced him with Brazilian fighter Alex "Cowboy" Oliveira, who comes into the matchup on three consecutive wins in a row.
Like always, Cerrone isn't stressing much about the opponent change or even knowing much about the new guy he's facing on Sunday night other than they happen to share the same nickname.
That's why Cerrone is changing his before they fight -- of course he might just be kidding.
"I know we've got the same name. There is only one -- which is why I'm changing my name to "Rampage" for this fight," Cerrone said with a laugh.
As far as the future goes, Cerrone isn't concerned about fighting at welterweight or lightweight or possibly going back and forth between divisions. He just likes to fight, and he likes to get paid, so Cerrone will continue to compete where he's best -- in the money weight division.
"I honestly have no idea what I'm going to do. I'm going to take this fight and then say who's next?" Cerrone said. "I guess playing both sides of the fence, I could pick up even more fights. Twice as many, right? It gives me a wider range of going back and forth."