'Cowboy' Cerrone willing to face Conor McGregor at UFC 196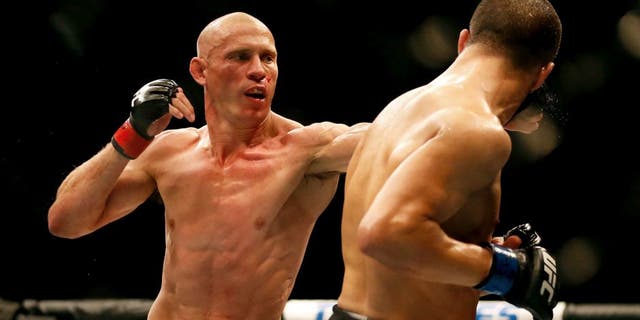 As the UFC scrambles to find someone to face Conor McGregor at UFC 196, Donald "Cowboy" Cerrone has thrown his hat in the ring as a potential replacement.
Word came down on Tuesday morning that lightweight champion Rafael dos Anjos suffered a broken foot in training that forced him out of the upcoming fight with McGregor on March 5.
With less than two weeks to go until the event, the UFC doesn't have a lot of time or many options for a potential replacement but Cerrone seems to be one fighter willing to take the challenge.
Cerrone's manager Josh Jones confirmed to FOX Sports that they have contacted the UFC to say that "Cowboy" is interested in the fight with McGregor but there's no further word on whether or not he'll actually be considered.
Cerrone fought this past Sunday night in Pittsburgh where he submitted Alex Oliveira with a quick first-round triangle choke, but the bout took place at welterweight, which means "Cowboy" would have a very large weight cut to get down to the lightweight limit.
Of course, McGregor could always sign off on a catchweight to fight somebody like Cerrone, but all of these options depend on the UFC's willingness to make it happen.
As more fighters find out about dos Anjos' exit from UFC 196, it's likely a slew of names will volunteer as a potential opponent to face McGregor in Las Vegas.
Right now, the UFC hasn't commented on dos Anjos' injury or if it is actively seeking to replace him on the card or potentially shift the fight to a later date.