'Cowboy' Cerrone known for his guts, but showed his smarts in main event win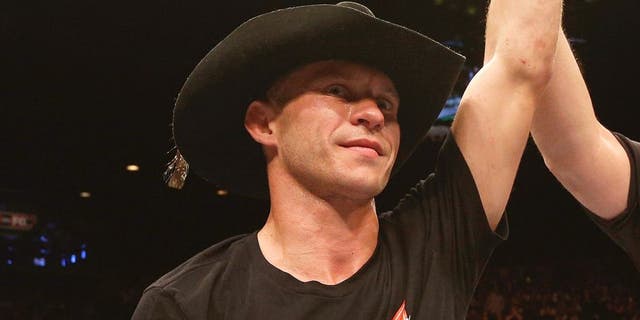 Donald Cerrone was very much Donald Cerrone, Sunday night. He fought on short notice, was dauntless with the challenge he was taking on -- a jump up to welterweight -- and was dangerous on many levels once the fight started.
The American is known as a great kickboxer, and he is. But he has solid wrestling and nasty submissions, especially off of his back, that often go unmentioned, even though he has used them in most of his biggest wins. He may have been reckless in taking a fight so soon after getting knocked out less than two months ago, but Cerrone showed his smarts by adapting to the situation in the fight and taking every hole he could find, in Pittsburgh.
Cerrone got tagged a few times by Alex Oliveira, and then, when the Brazilian squared up a bit too much and opened himself up to takedowns, Cerrone recognized and capitalized.
Instead of getting into a slugfest, where anyone could come out of the chaos a winner, Cerrone shot early, and shot often, to put himself where he had a huge advantage -- on the ground.
Eventually, he got a takedown, and from there, he dominated. A few moments later, Cerrone scored the 10th finish win of his UFC career.
Cerrone passed the half-guard, took the mount, then gave up position to lock in a triangle choke when Oliveira turned to his side and left an arm hanging. The Jackson/Wink fighter then rolled to his own back, didn't even need to move Oliveira's left arm across his neck to finish, and forced a tap-out submission so quickly that he had to point it out to the referee watching nearby.
Cerrone didn't choose to stand and bang, mindlessly for the fans. He fought smart, and fighting smart is always fighting best.
And, he fought for himself, which is also always a good idea. "For once," he said, afterwards, "this fight was for me."
The win is his ninth in his last 10 fights and is probably dramatic enough to let the star pick up speed again, now in two divisions. "I get to do [155] and 70 now," he continued, beaming.
"If you want to get hurt, I know a guy."
Cerrone puts himself through the ringer and through a lot of pain to fight as often as he does (four times, each year, for example, in 2013, 2014, and 2015). By letting loose with all of his skills, not just his stand-up striking ones, he gives himself a chance to at least save his body a bit once he gets in the cage.