Coveted FCS QB Prukop to pick between Ducks, Tide on Monday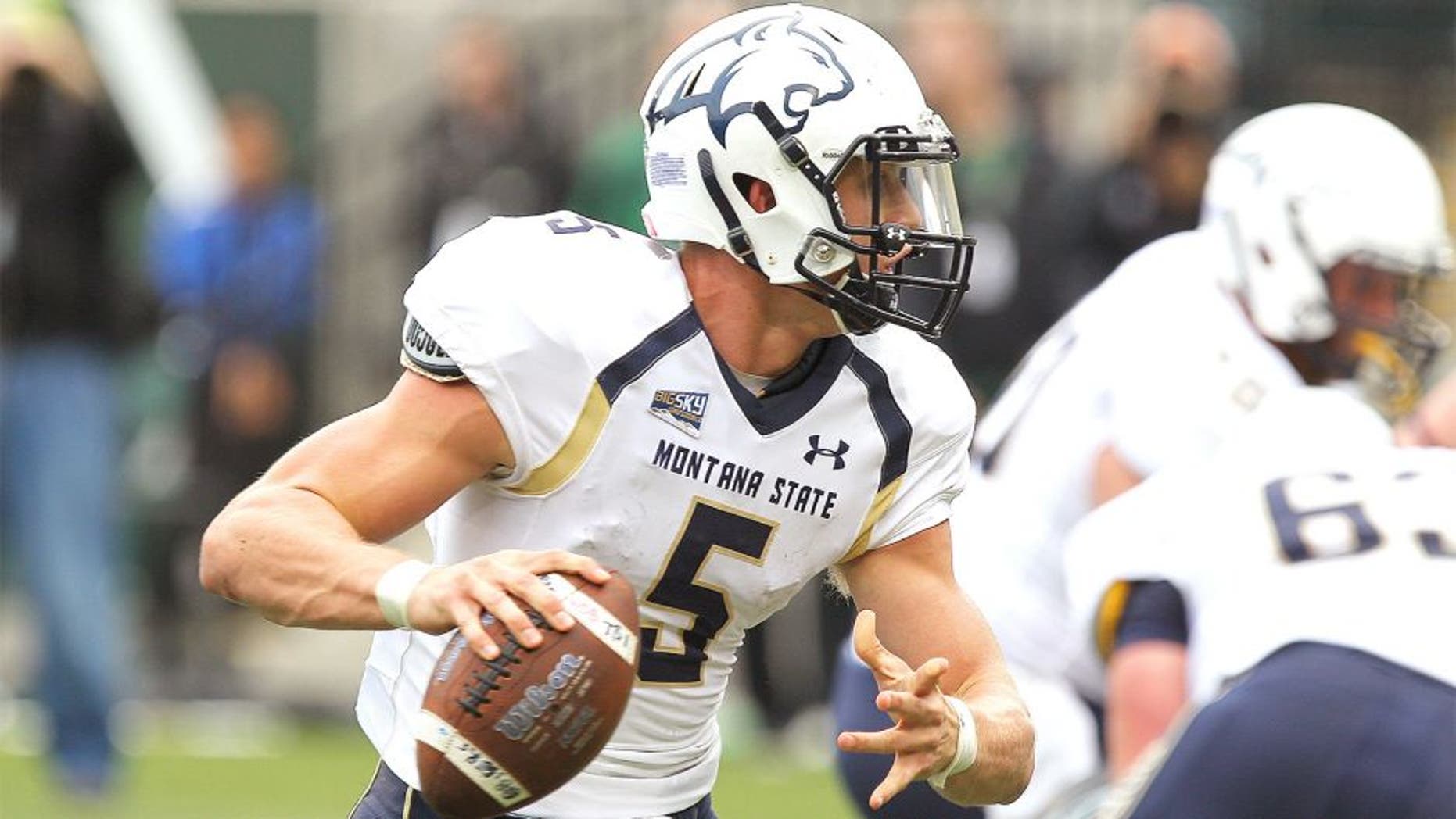 Montana State's star QB Dakota Prukop, who is expected to graduate this month and will be eligible to transfer and play immediately in 2016 -- will decide between Oregon and Alabama on Monday afternoon, he told FOX Sports Sunday night. Prukop visited Oregon earlier this weekend and then took a red-eye flight Saturday night from Portland, Ore., to Alabama -- arriving Sunday morning to visit the Crimson Tide before the recruiting dead period begins on Sunday night.
"Alabama visit was great," the speedy 6-foot-2, 210-pounder said. "Historic program, it is an honor to be wanted by coach (Nick) Saban. I'm extremely blessed to be in this situation with these two outstanding programs."
On Saturday, before getting on the red-eye, Prukop told FOX Sports: "I loved Oregon," where he could replace fifth-year senior Vernon Adams Jr., who is playing his final college game in the Ducks' upcoming Alamo Bowl. "It was a surreal deal just because of the caliber of players there and how welcoming they were. You can tell that Oregon wants to win. The guys on that team, they get it. Oregon's arms were wide open. They have an outstanding cast of really competitive guys and even better dudes. I developed a great rapport with coach (Mark) Helfrich and coach (Matt) Lubick very quickly."
A native of Austin, Texas, Prukop threw for 3,025 yards, completed 63 percent of his passes and had a 28-10 TD-INT ratio for the Bobcats this season. He also ran for 797 yards and 11 TDs. Against Adams' old school, Eastern Washington, Prukop threw for 353 yards and four touchdowns and ran for 196 yards and another score.
As FOX Sports detailed last year, Prukop was a late bloomer -- about 6-2, 175 coming out of high school. Prukop had toyed with the idea of trying to walk on at Texas Tech or SMU. He had come from a new school that just started up in Austin -- Vandegrift -- and said it didn't have any FBS recruiters come by.
He said he went to Texas Tech's camp and ran a 4.5, but the Red Raiders' DC eventually stopped talking to him and then got fired. In retrospect, he believes going the FCS route was the right move for him. He didn't get lost on a crowded roster with scholarship guys, and it afforded him some time to develop. "I was way behind," Prukop said.