Couture, Skinner, Grabner round out Calder finalists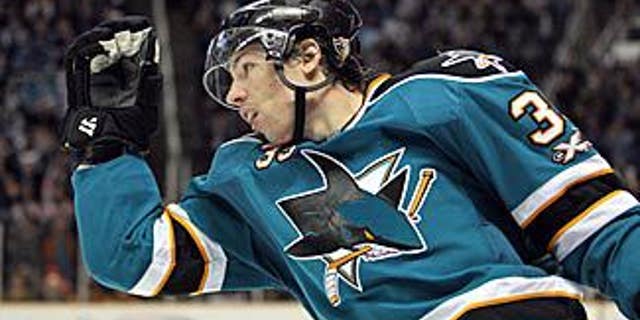 It isn't every season that a NHL rookie eclipses the 30-goal mark.
This year's list of nominees for the Calder Trophy, awarded annually "to the player selected as the most proficient in his first year of competition in the National Hockey League," features not one, not two but three such rookies.
Michael Grabner of the New York Islanders leads the pack with 34 goals, Logan Couture of the San Jose Sharks follows with 32 and Jeff Skinner of the Carolina Hurricanes lit the lamp on 31 occasions.
It marks the first time since 2005-06, the season Sidney Crosby and Alex Ovechkin entered the League, that there have been multiple rookies who scored at least 30 goals. That season, Marek Svatos and Petr Prucha were also on the list for a total of four.
The 2011 Calder nominees are an interesting group to consider.
Although he finished with the fewest goals of the three, Skinner led all rookies in scoring with 63 points. He made the Hurricanes roster as an 18-year-old after being the No. 7 pick in the 2010 Entry Draft and became the seventh-youngest player in NHL history to record a 30-goal season. His popularity in Carolina soared when he was named to the All-Star Game and played on Team Staal in front of the hometown fans at the RBC Center in late January.
Grabner probably wasn't at the top of anyone's list of candidates for the Calder when he was waived by Florida at the end of training camp after being acquired from Vancouver during the offseason. Picked up by the Islanders and given an opportunity to see the ice regularly, Grabner quickly became part of their top line and regularly displayed the speed that won him the Bridgestone NHL Fastest Skater competition during All-Star Weekend. Grabner led all rookies with 6 shorthanded goals and finished third with 52 points.
Couture got his feet wet with the Sharks by playing in 25 games in 2009-10 and parlayed that into a starring role this season, finishing second on the team to Patrick Marleau in goals and sixth with 56 points. He led all rookies with 10 power-play goals and 8 game-winning goals, the latter total placing him in a tie for seventh among all NHL players. Couture was a vital cog in the Sharks winning their fourth consecutive Pacific Division crown and capturing the second seed in the Western Conference. He scored in San Jose's opening game win in its first-round series with the Kings, which is knotted at one-all going into tonight's Game 3 at Los Angeles (Versus, TSN, 10 p.m. ET).