Countdown to Daytona: Dale Earnhardt's iconic win in 40th 500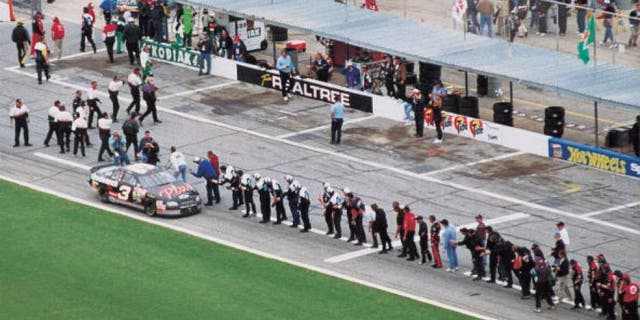 NEWYou can now listen to Fox News articles!
With only 40 days remaining before the running of the 2017 Daytona 500 live on FOX, the 40th running of the Great American Race deserves yet another look.
It is one of the most famous races in NASCAR history, for it was the only time the late Dale Earnhardt ever won stock-car racing's most prestigious events.
Earnhardt entered the 1998 Daytona 500 having made 19 previous failed attempts to win it. Plus he was on a 59-race winless streak that had some questioning if the driver of the iconic No. 3 Richard Childress Racing Chevrolet was coming to the tail end of his incredible career.
Earnhardt led 107 laps, including the final 61, en route to his emotional and historic victory.
It was a surprisingly clean race for a restrictor-plate affair -- with only three cautions and the first 125 laps run under green-flag conditions.
When it was over, in one of the most memorable events in NASCAR history, the crews and drivers from all the teams lined up on pit road to congratulate Earnhardt on breaking his 500 slump in his 20th attempt.
Current FOX Sports NASCAR broadcaster Mike Joy, then working for CBS, memorably put the poignant moment into perspective with his play-by-play call as Earnhardt secured the win.
"Twenty years of trying. Twenty years of frustration. Dale Earnhardt will come to the checkered flag to win the Daytona 500! Finally! The most anticipated moment in racing!" Joy exclaimed.
Earnhardt's winning crew chief was Larry McReynolds, now a FOX Sports NASCAR analyst.
"Dale was like a kid at Christmas, and that was a time where I just wanted to sit back and just watch him," McReynolds once said of the 1998 victory.
As for drivers who have been successful in the No. 40 car, none tops the modest success registered by Sterling Marlin, who owns the most wins (four), the most top fives (27) and the most top-10 finishes (76) in the most career starts (274) in the number.
The only other driver to earn multiple wins in the No. 40 was Pete Hamilton with three. Tommy Thompson scored one, as did Jamie McMurray -- who earned his first career victory in only his second career NASCAR Premier Series start at Charlotte while subbing for the injured Marlin in a Chip Ganassi-owned Dodge in October of 2002.