Could we see two quarterbacks in the backfield for Oklahoma State?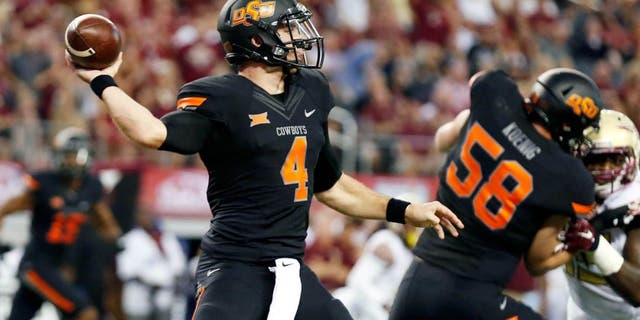 J.W. Walsh has remained a focal point of this Cowboy offense. Matthew Emmons USA Today Sports
Oklahoma State has developed a nice rapport between its two quarterbacks, Mason Rudolph and J.W. Walsh. Rudolph is more of a prototypical quarterback, while the Cowboys use Walsh's athleticism and elusiveness in goal-line and running situations.
He is, however, still a threat to pass the ball, and Rudolph is no statue. So why not play the two in the same backfield, at the same time?
It could be an option against TCU, as Oklahoma State is going to have to manufacture a ton of points to keep up with Trevone Boykin's pace.
Gundy has floated the formation as a possibility.
"We've had a couple plays that we've used them in (practice), you've seen us," Gundy said. "We worked on it in preseason. We use it every now and then and at sometime that could show up, just depending on the team we're playing, what the structure is of their defense, strengths and weaknesses.
"It's either two or three plays where they're both in the backfield at the same time. I would suspect at some point that we'll use that. It's not really any secret, but if you do, you still gotta get lined up and defend it."
(h/t Daily Oklahoman)