Could Hollywood steal Conor McGregor away from the UFC? (VIDEO)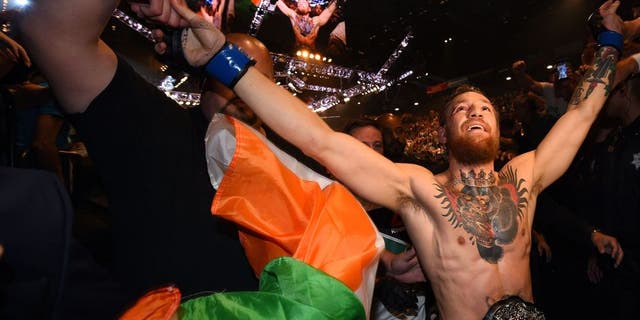 NEWYou can now listen to Fox News articles!
Over the past two years since joining the UFC, Conor McGregor has not only become one of the biggest stars on the entire roster, but he's also proven to be a commodity outside of fighting as well.
McGregor, the UFC interim featherweight champion, has taken full advantage of his celebrity by landing several commercials in his home country of Ireland and more recently he became the face of Game of War, a mobile strategy game that was one of the top-selling apps in 2014.
In the past, McGregor has mentioned the possibility of crossing over into film or television work while adding acting to his ever-growing resume. UFC women's bantamweight champion Ronda Rousey has already made that move, appearing in several high-profile roles, including "Furious 7" and a co-starring slot opposite Mark Wahlberg in "Mile 22," which will begin filming in 2016.
One of the biggest fears with Rousey dabbling in Hollywood is that one day she might prefer the glamour and glitz of Hollywood over the thrill of competing in the Octagon and her days with the UFC would dwindle while she was potentially still in her prime.
As much as McGregor would like to follow in Rousey's footsteps, he promises that his focus remains on being the best fighter in the world, because that's how he got here in the first place, and until the UFC stops paying him to win titles and knock off contenders, he's happy where he is.
"As long as the checks keep rolling in through this game, they will keep me here," McGregor told FOX Sports. "If the checks dry up, well, then I will go elsewhere.
"I am happy with what's happening here. The money that's rolling in is absolutely phenomenal in this business for me. The game has worked for me."
McGregor said it's important not to ignore those outside opportunities like doing commercials or even the occasional movie because that additional work also adds value to what he's doing inside the Octagon as well.
Where McGregor splinters on the debate of fighting versus Hollywood is when it becomes a distraction.
He has long-term goals to go down as one of the greatest fighters of all time, and the moment when something pulls him away from that, McGregor could lose everything.
"If those avenues take away from the passion," McGregor said. "Well, then, the passion will go."