Could Erik Jones be the next first-time Cup Series winner?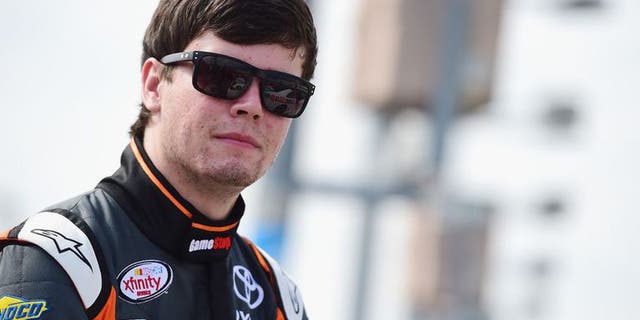 NEWYou can now listen to Fox News articles!
Weve already had three first-time Monster Energy NASCAR Cup Series race winners in the first 14 races of 2017 Ricky Stenhouse Jr., Austin Dillon and Ryan Blaney and there could be more to come soon.
One driver to keep an eye out for is Furniture Row Racing rookie Erik Jones, who in Sundays Pocono 400 scored a career-best third-place finish in his Toyota, behind only race-winner Blaney and second-place Kevin Harvick.
At Pocono Raceway, Jones finished ahead of his Furniture Row teammate, sixth-place Martin Truex Jr., and all four Joe Gibbs Racing Toyotas. It was an impressive performance, for sure.
Jones, who has endured the typical share of rookie ups and downs, was pleased with his results.
Just happy, happy that we finally get a finish that we deserve, Jones said. We ran top-five most of the day and had good strategy and it worked out. The last restart played out right into our hands and got it during the third (stage) and knew we had to hold those guys off and wed be just fine. Its exciting. Happy we had a fast race car. Wish we had a little bit faster one and then we could have gone up there and raced for it, but definitely a good day for us.
When Blaney and Harvick were battling hard for the lead, Jones thought he might have a chance to play the role of spoiler and steal a victory. Alas, it was not to be.
I was hoping they (Blaney and Harvick) were going to get side-by-side like the 21 (Blaney) and the 18 (Kyle Busch) did and we were able to close that up on them and have a shot there, said Jones. I could never quite get up there. I was busy holding off the 2 (Brad Keselowski) and 41 (Kurt Busch).
Still, the end result was a good one, especially after some early season struggles.
Its just gratifying, said Jones. You stick with it and stick to your guns and know what you have and keep doing the same thing week in and week out and sometimes its tough to do that. You hope its going to come back around and I got the finish I felt like we deserved.