Corey Seager can make history for the Dodgers this postseason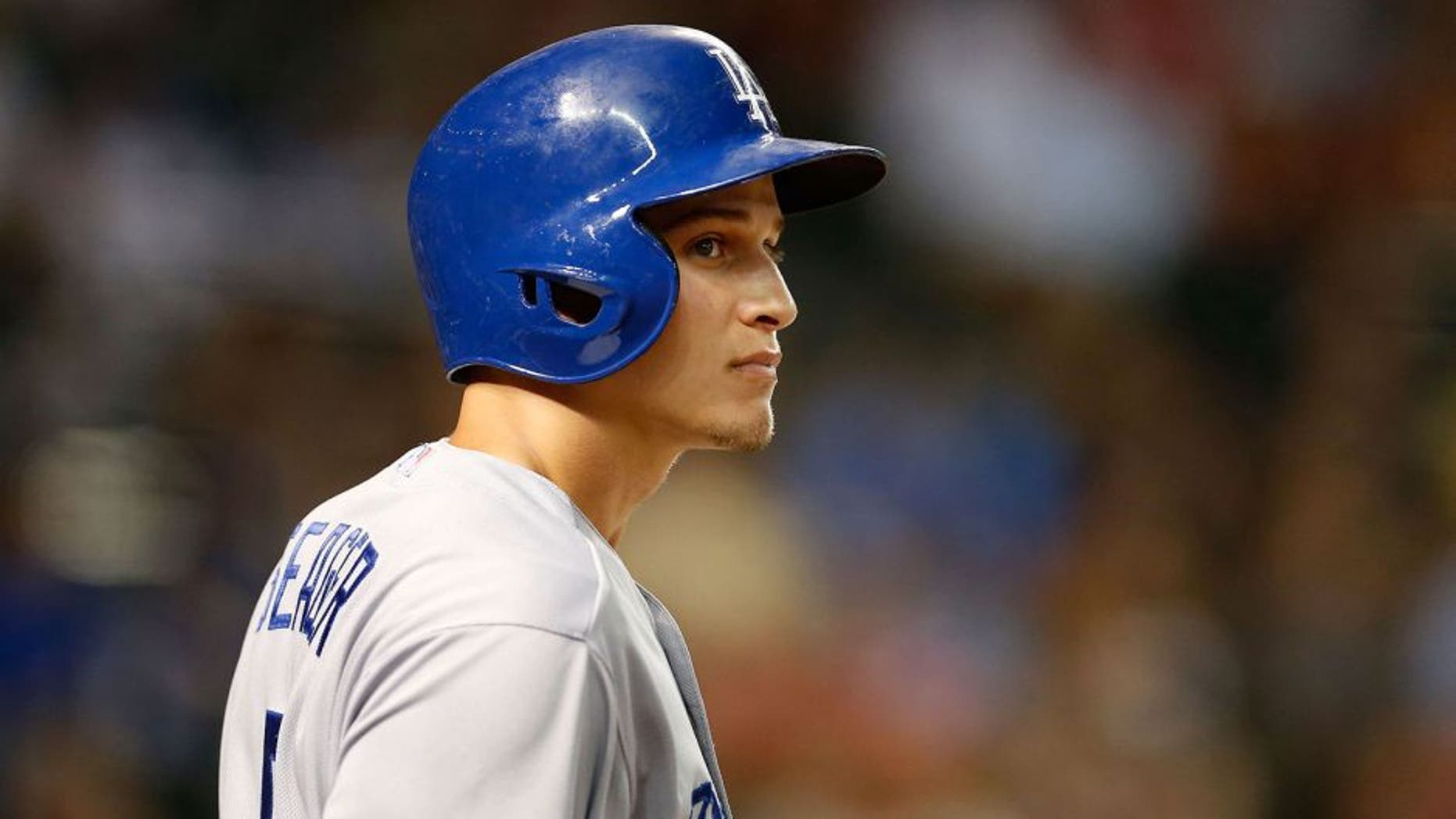 As the Dodgers gear up for their third-consecutive postseason berth, the first such streak in franchise history, they will fastidiously survey their roster for the 25 players they'll send into October to make the type of history that is accompanied by a parade.
While there has been some debate as to whether rookie infielder Corey Seager, who was called up in September to make his major-league debut, will be included on the Dodgers' postseason roster, the Dodgers should indubitably bring the rookie sensation along for their postseason ride.
Immediately making a splash in his debut on Sept. 3 with a 2-for-4, two-RBI performance, the 21-year-old has hit .353/.457/.603 with three home runs and 13 RBI in 19 games.
Barring a few errors he's made at shortstop, Seager also has been solid in the field, and has proven he can handle playing third base as well.
Above all, Seager has shown great poise and confidence in his ability from the moment he stepped on a big-league diamond, which manager Don Mattingly noticed immediately upon his arrival.
"I think what really has a chance to set him apart is just his demeanor is really good," Mattingly said after Seager's impressive debut. "Everything is a good vibe with him. He's a humble kid, but he's also confident. It's not like he's afraid."
Although Seager has never played in the postseason before, his talent and composure have the makings of mighty good recipe for a clutch player, regardless of which month he's playing in.
"I mean, there is definitely pressure, there's always going to be pressure. But I try to put the least amount on myself as I can," Seager said following his debut. "It's just going to go the way it goes and you're going to have to accept it and work on things and just go about your business."
While Mattingly was initially guarded when discussing the prospect of Seager making the postseason roster, the rookie has made a compelling case that can't be overlooked.
If the Dodgers do in fact pencil in Seager on the postseason roster, he has a chance to make franchise history for a rookie.
The annals of Dodgers postseason history include only a few rookie position players who have played a major role in the playoffs, all of whom were older than Seager at the time of their rookie postseason experience.
The youngest position player in franchise history to play a major role in the postseason was Cuban phenom Yasiel Puig, who at age 22 hit .471/.500/.529 with two RBI in the 2013 NLDS, including a clutch double in the bottom of the eighth inning of Game 4 before Juan Uribe hit an epic game-winning home run to clinch the series.
Former first baseman James Loney, who went 4 for 5 with three RBI in Game 3 of the 2006 NLDS, 1965 Rookie of the Year Jim Lefebvre (4 for 10, 1965 World Series), and utility man Chad Fonville (6 for 12, 1995 NLDS), all had impactful postseasons as rookies at age 22, 23, and 24, respectively, as well.
The most impressive performance from a rookie position player in franchise history came from 1953 Rookie of the Year Jim Gilliam, who hit .296/.321/.630 with two home runs and four RBI in the '53 World Series.
There have been some impressive postseason performances by Dodgers rookies on the mound as well.
The most notable performance came from 1981 Rookie of the Year and Cy Young Award winner Fernando Valenzuela at age 21, who played a key role in the Dodgers' World Series run, in which he went 3-1 with a 2.21 ERA in 40 2/3 innings, including a complete game in a pivotal Game 3 win in the World Series.
While not nearly as memorable as Valenzuela's performance, Ismael Valdez turned in seven scoreless innings while starting Game 2 of the 1995 NLDS in his age-21 season, and a handful of rookie Dodgers, including Don Bessent (24, 1955 World Series) and starters Chad Billingsley (21, 2006 NLDS) and James McDonald (23, 2008 NLDS), provided scoreless relief in the postseason.
Assuming he duly makes the Dodgers' postseason roster, Seager could etch his name in history amongst the aforementioned rookies, and could piece together one of the best postseason performances for a rookie position player in franchise history if he carries the momentum he's established in his fledgling career into the postseason.
After disappointing conclusions to their postseason berths in 2013 and 2014, the Dodgers could use a spark plug to propel them to their first World Series title since 1988.
They have tactfully stacked their roster with veterans like former Phillies World Series tandem Chase Utley and Jimmy Rollins in hopes of solving their postseason woes, but an immensely talented rookie like Seager has the composition of a game-changing catalyst that could catapult them in the postseason.
"Fernandomania" was the phenomenon that swept Los Angeles in 1981 when Valenzuela helped the Dodgers win the World Series as a 21-year-old rookie.
Could Seager Fever be next?