Corey Kluber's infield hit give Indians an early lead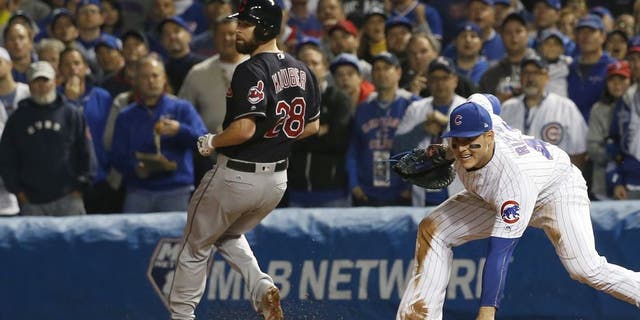 With one giant swing of his bat Corey Kluber gave the Cleveland Indians a go-ahead run in the second inning in game 4 of the World Series.
The Chicago Cubs intentionally walked Tyler Naquin to pitch to the Indians ace, Kluber then made them pay. He didn't make it easy for the playoff veteran John Lackey either as he worked the count to 3-2, and fouled off several pitches. Then with a lumberjack swing, Kluber smacked the pitch from Lackey and it dribbled into the infield grass for a swinging bunt as Kluber hustled his way down the first base line. Kluber reached safely as Kris Bryant's throw got past Cubs' first baseman Anthony Rizzo. Lonnie Chisenhall raced to home plate from second base to give the Indians a 2-1 lead.
Let this be a lesson that you don't mess with Corey Kluber. He will make you pay.