Corbin bolsters rotation bid with 5 shutout innings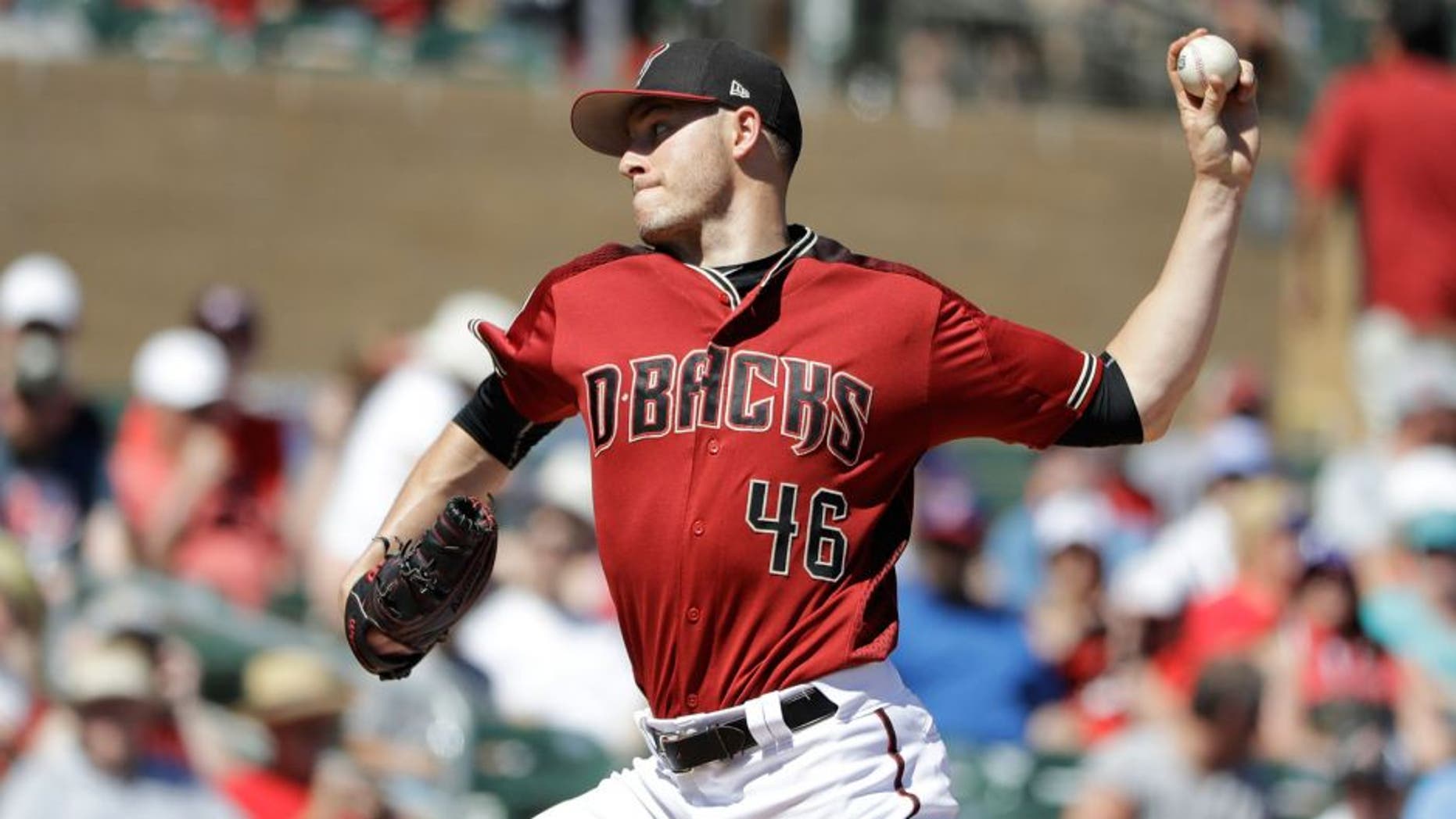 SCOTTSDALE, Ariz. -- Patrick Corbin made his strongest statement to date for a spot in the Diamondbacks starting rotation on Tuesday with five scoreless innings in Tuesday's 12-0 victory over the Texas Rangers.
Corbin allowed just one base-runner -- a leadoff single by DeLino DeShields in the first inning -- and retired 15 batters in a row before his day was through. He struck out five and threw 42 of 56 pitches for a strike.
"It looked like he could throw any type of pitch in any area today in any count," manager Torey Lovullo said. "And that's one of those special moments that all those pitchers are looking for."
Corbin lowered his spring ERA to 3.38 and has given up 10 hits, three walks and struck out 14 in 13 1/3 innings.
"I feel like every time I'm out there my arm feels better and better. It feels like it's coming out easy," Corbin said.
Corbin admits that he has something to prove after a season in which he gave up more runs than any pitcher in the National League, and he's not alone in the D-backs' clubhouse.
"Just throwing strikes, something that I did struggle with last year, that's the big thing in my mindset coming into spring," he said.
"Everybody here is ready. I think we have a very talented staff, and I think we all underperformed last year and we can all get better. It helps when everybody's doing well and you want to compete and outdo the other one."
The D-backs' lineup pounded out 17 hits, including home runs by catcher Chris Iannetta, infielder Ildemaro Vargas and Chris Owings, who saw his first action in right field.
It was a big day for the Chrises all around -- Chris Herrmann was 3 for 3, Owings was 2 for 2, and Iannetta was 1 for 2 with a walk.
Nick Ahmed and Brandon Drury were also 3 for 3 at the plate.
On the mound, in addition to Corbin's five sharp innings, non-roster invitee J.J. Hoover pitched a 1-2-3 eighth inning, giving him 5 2/3 scoreless innings in his bid for a spot in the bullpen.
Extra bases
--Outfielders A.J. Pollock and Yasmany Tomas remain sidelined with what Lovullo described as ''day-to-day" injuries.
Pollock has been out since feeling a tightness in his groin after hitting a home run on Sunday; Tomas has been out with a back ailment since March 6 and is hitless in 17 Cactus League at-bats.
"We've got a number of injured athletes right now, and we're not going to rush through any part of the process to get the on the field as quickly as possible until they are ready to go," Lovullo said.
"We might be little light in certain areas, but that'll give other players a chance to step in and get some at-bats and get some reps, and that's exciting for me to watch.
"All these guys are really day to day, but with no rush attached to that. We don't want to fast forward anybody and put them in a bad situation."
--Lovullo said he was impressed by Zack Greinke's outing in an intrasquad game on Monday.
"It's always a little bit of a drag to come in on an off day, and then you throw in a 10 o'clock game and it takes a little while to get kick started. So I think Zack' s first couple of batters got on base, and then he decided it was time to turn up the volume a little bit.
"The end result was very favorable, and I think he was excited about the outcome."
Greinke has now pitched three times this spring, with his fastball gradually gaining velocity, topping out Monday at 91.
"We know that's in there," Lovullo said. "We know it's going to take some time for these guys to build up to what they need to get to. I'm not really concerned about Zack at this point."