Copa America: Slow Out of the Gate, May Heat Up in Knockout Round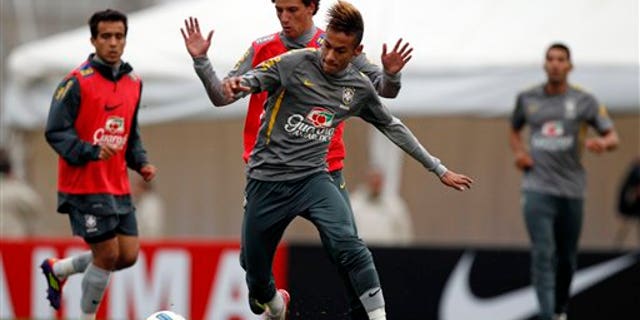 After an embarrassing and confounding slow start, Copa America finally heated up in the third round of group stage games.
It had to because the tournament was in danger of becoming a greater farce with the lack of goals and sub-par performances from the alleged favorites.
Now, if the knockout round lives up to that promise, then perhaps the earlier headaches and matches will be forgotten.
Copa finally moved towards the tournament many soccer fans had anticipated with a few goals and wins, especially for the two underachieving sides in which their fans have some great expectations -- host Argentina and Brazil.
How much have those enemies dominated Copa through the years?
Well, not having those two countries in the semifinals would be nearly unthinkable. Of the previous 13 Copa Americas since 1975, the Final Four has boasted at least one of those two protagonists except for the 2001 tournament in Colombia.
Let's hope these two superpowers are just warming up for when it really counts because the less said, the better concerning their performances in the opening round of this competition.
The Brazilians stumbled to a pair of 1-1 draws until they regained their magic in a 4-2 triumph over Ecuador on Wednesday as Alexandre Pato and Neymar struck for second-half goals to put the game away.
Before the tournament began, Brazilian coach Mano Menezes already warned fans that his team was preparing and building for the 2014 World that it will host, so winning in Argentina wasn't the top priority. Talk about diminished expectations
for the Brazilians, who have captured the Copa crown in four of the last five tourneys.
Was their performance a harbinger of things to come or just a scoring spurt? If it is the latter, Menezes men will return home in dishonor, regardless of perceived expectations.
Argentina (1-0-2) obviously already was in the spotlight as the hosts. There was also the intrigue of River Plate astonishingly being relegated to the second division just before the tournament's kickoff and the violent reaction of its fans -- River Plate's Monumental Stadium is the final venue. And there is the question of whether Lionel Messi could be the same kind of impact player with his country that he has been with Barcelona/
After a rather humiliating slow start in ties against Bolivia and Colombia, La Albiceleste finally got its act together in the 3-0 win over what was essentially an Under-23 team representing Costa Rica. Even Messi, who did not score, got into the act as he set up two goals.
Like it or not, until Messi dominates a competition or has Argentina win a major tournament such as Copa or the World Cup, the scrutiny and questions on whether he can do it internationally will always be on his back. In fact, if the Argentines manage to win this tournament, the expectations for Brazil in three years will be only greater.
Messi has become a victim of his own success.
In case you were wondering, Argentina's scoring brigade is led by Sergio Aguero (three goals), the son-in-law of the previous coach, Diego Maradona.
The Argentines' next challenge will be against eternal archrival Uruguay in Sante Fe at 6 p.m. ET Saturday (Univision).
In the very first World Cup, which the Uruguayans hosted in Montevideo in 1930, there was a dispute over what ball to use. As the legend goes, a compromise was made. They used an Argentine ball in the first half as the visitors enjoyed a 2-1 lead. Using a Uruguayan ball for the final 45 minutes, the hosts rallied for a 4-2 and the first world championship. The next day Argentines stoned the Uruguayan consulate in Buenos Aries.
Enough said.
Don't count the Uruguayans out. Remember, behind the fabulous Diego Forlan (who has struggled in this competition), they were the last South American team standing in South Africa last summer, finishing an impressive fourth. Besides, there is nothing more than they would love to do than to eliminate the Argentines in their own backyard. That would be cause for a major celebration across the Rio de la Plata.
Saturday's table setter will be Columbia vs. Peru in Cordoba at 2:55 p.m. ET (Univision).
Neither team might not have been given much chance of going deep in this tournament, but the survivor of this quarterfinal confrontation will reach the semifinals, where it will play the winner of Argentina-Uruguay encounter. Not too shabby.
Falcao Garciaco paces Colombia with two goals, as does Paublo Guerrero with Peru.
On Sunday, Brazil takes on Paraguay in La Plata at 2:55 p.m. ET (Univision), while Chile and Venezuela tussle in San Juan at 6 p.m. (Univision).
Paraguay (0-3-0) has managed to pull off an "Italy," by going through without winning any of its opening-round matches. The Italians captured the 1982 World Cup after drawing three first-round ties. Although the Paraguayans have found the net five times, no player has multiple goals.
Chile (2-0-1), the Group C winner, is not spectacular, but is a solid side as it also reached last year's World Cup. So, this should be a test for an improved Venezuelan side (1-0-2), which went through Group B unscathed as it held Brazil to a scoreless draw.
A win would be a tremendous historic achievement for the Venezuelans, who have never reached the Final Four since the competition began as the South American championship nearly a century ago in 2016.
The winners of the quarterfinals will meet in the semifinals on Tuesday and Wednesday.
Fans will be rooting for some good, entertaining, attacking soccer. Hopefully, the final eight sides have learned their group stage lessons.
The last thing Copa America needs is a bookend tournament of soccer that will bore fans to death.
Michael Lewis, who has covered international soccer for more than three decades, can be reached at SoccerWriter516@aol.com.
Follow us on twitter.com/foxnewslatino
Like us at facebook.com/foxnewslatino