Cooper Kupp NFL Draft diary: The Combine won't define me as a football player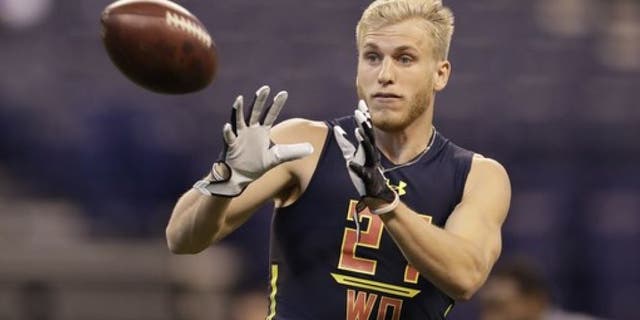 Cooper Kupp played wide receiver at Eastern Washington, where he set 15 FCS, 11 Big Sky and 26 school records during his career. The FCS' all-time leader in receiving yards, receptions, touchdown catches and yards per game, Kupp was a consensus All-American in each of his four seasons and is projected to be an early-round pick in April's draft. This is the fourth draft diary entry for Kupp, who is documenting his NFL draft experience at FOXSports.com.
I had a fantastic experience at the NFL Combine earlier this month, but after four non-stop days in Indianapolis, it's been nice returning to my routine and getting back to the grind in California as I prepare for my Pro Day on March 28.
Until you experience it first-hand, you can't fully appreciate how busy Combine week is, from the second players arrive to the moment they leave Indianapolis. On TV it may just look like a couple press conferences and a few hours of drills over the course of one morning, but the entire week is planned to a T, and there's barely a moment that passes without something on the schedule.
For example, I had one day that started with a 3:30 a.m. wake-up call for drug testing. After that came breakfast, then we went right into the "meat market," where we had our measurements taken. From there, we went on to medical testing, where a doctor performed a comprehensive exam and reviewed your medical history, and after that he presented his findings to the team doctors.
Those doctors, of course, wanted their own looks at guys, too, and for some players that entire process can take as long as eight or nine hours, especially if teams order X-rays or MRIs. But after all that, the day is just getting started, with team meetings often lasting until midnight -- just in time to catch a few hours of shuteye before the next jam-packed day begins.
As a result, a lot of guys are exhausted by the time they actually take the field on their final day. And I think that's by design. Teams don't just want to see how you perform but what you have left in the tank after three round-the-clock days.
In my case, I was pleased with the job I did in my drills, and I think I had a good showing, even if I didn't surpass all of the ambitious goals I set for myself. At the end of the day I walked away from it knowing I gave my best, and that was always my primary focus.
Because, good or bad, my Combine metrics don't change who I am as a football player and they don't impact my dedication on the field, in the film room or my focus in meetings. The numbers are a measurement tool for teams, sure, but they don't define me. You run the drills once, and then they don't matter anymore, because you never do them again.
And ultimately, I think the coaches and executives get as much or more out of the non-physical aspects of the Combine as what 40 time we run or how high we can jump.
After all, we're not running track or trying to make the Olympics. We're football players. And in my mind, if you want to get the best football player, you're going study the tape and see how they play, how fluidly they perform football movements and if they have the ability to lock in come up big on Sundays.
That's what separates the best players, and I believe winning teams feel the same way.
I also know it's important to make a good impression in interviews, and I had several chances to do just that. Overall, I had seven formal interviews throughout the week and had informal meetings with virtually every other team in the league, and I like to think everyone who met with me walked away knowing that I have a deep passion for this game and intend to make an impact Day 1.
Still, there's no way of knowing for sure which teams were most impressed and what my performance in every aspect of the Combine meant for where or when I might get drafted. NFL teams don't want to show their cards, and I respect that.
So I don't spend time worrying about whether a team is in the market for a receiver or how interested it might be based on a 15-minute chat at the Combine. I just hope teams understand that if they're willing to pick me, they're going to get a very determined ballplayer who is ready to go. And as far as I'm concerned, that's the type of player every team should want.
Chapter 1: A whirlwind week at the Senior Bowl
Chapter 2: Training with the NFL's best
Chapter 3: Primed for the Combine
You can follow Cooper on Twitter at @CooperKupp.