Conor McGregor's coach thinks Nate Diaz will last longer than Jose Aldo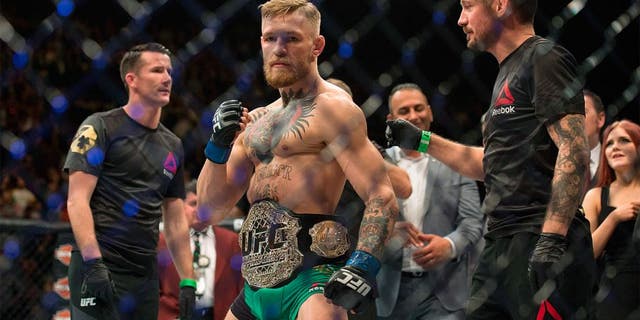 If Conor McGregor is the master of calling his shots ahead of every fight, his coach John Kavanagh isn't far behind when predicting the kinds of performances the Irishman puts on inside the Octagon.
Kavanagh is the man in charge of the game plan and strategy that McGregor executes whenever he competes so it's no surprise he's backing his fighter's prediction against Nate Diaz at UFC 196 on Saturday night.
Kavanagh definitely gives Diaz credit for being a crafty, dangerous fighter, but he still doesn't expect the Stockton, Calif., native to make it out of the first round.
"I think it will be towards the end of the first round," Kavanagh told FOX Sports in an exclusive interview. "I do think it's a slightly different opponent. I think Nate has very good jiu-jitsu, a very good guard, so you've got to be careful if you do knock him down. Like the way he jumped down on (Jose) Aldo, maybe you'd have to be a little more careful in this one because Nate can kind of suck you into his guard and he has a very good triangle game and good guillotines."
McGregor has also said he hopes Diaz can stick around for at least a round or maybe even two so that he can put on a show for the fans in attendance in Las Vegas.
As amazing as it felt to knock out Jose Aldo in just 13 seconds in his last fight, McGregor likes to show off his tools and he needs Diaz to last much longer to be able to do that.
Kavanagh agrees while also giving Diaz props for having a good chin and willingness to engage in a firefight. He just doesn't think it will go well for Diaz in the end.
"I can sort of see there maybe being a few knockdowns in this fight, the encouraging Nate to get back up to his feet until there's finally that knockout blow," Kavanagh said.
"Nate is extremely tough. He doesn't mind exchanging blows but he's in a quick draw gun fight with somebody with a much higher caliber gun, and that will show as the round goes on."
Assuming all goes well with McGregor on Saturday night, the current UFC featherweight champion has already expressed interest in staying at welterweight for a shot at Robbie Lawler this year.
Admittedly, McGregor moving up two divisions for a title fight might seem crazy to some but even Kavanagh says there's no reason to question "The Notorious" when it comes to reaching goals that have never been attained before.
"I've just kind of stopped even thinking of even putting a cap on all of this," Kavanagh said. "Every few months, I look back and I realize how off and how small I was thinking. Here we are today, he's fighting a guy who has competed at welterweight. It seems like only yesterday we were here fighting for the 145-pound belt. It's kind of a ride that we're all on, and I've kind of let the brakes go and I'm just enjoying the madness of it."
One thing Kavanagh definitely agrees with McGregor about is whatever comes next the show is ultimately all about him.
Whether it's fighting Lawler for the welterweight title, Rafael dos Anjos for the lightweight title, or any other superfight in between, McGregor calls the shots and the list of contenders just needs to start lining up.
"It is the McGregor division," Kavanagh said. "At the end of the day, when you're in an arena with tens of thousands of people, is anyone really all that concerned what belt it is for or what weight division it's at? They're just interested in interesting matchups.
"There's few fights that could have been put together on this kind of notice that would be more intriguing than this particular matchup. The weight doesn't matter too much. The belt doesn't matter too much. Put together fights that fans want to see and that are intriguing and sitting back as a fan, this is the most intriguing one in my eyes."