Conor McGregor trashes Nate Diaz, Frankie Edgar at MMA awards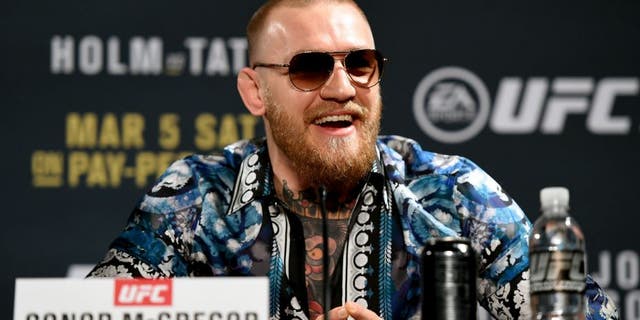 The 2016 Grammy Awards will go down in just a matter of hours, but the biggest winners from the world of music might want to call on UFC featherweight champion Conor McGregor for help on their acceptance speeches.
Just recently, McGregor took home the award for "Fighter of the Year" at the World MMA Awards, but he also took home the honor being named "International Fighter of the Year" on the same night.
McGregor's acceptance speech for his first award was already legendary, but now the World MMA Awards has released what the outspoken Irishman said for the other award, and he certainly doesn't hold back while taking shots at both Nate Diaz and Frankie Edgar in the process.
"The who's who of MMA I'm sure is there in their badly fitted suits, having a penny in their pocket," McGregor said. "I heard Nate Diaz couldn't even afford the flight over to Las Vegas for the ceremony. Frankie Edgar -- I heard he's dressed like a little sheik's servant or something he's dressed like I heard, struggling to make a few quid."
McGregor's shot at Diaz is likely aimed at the former lightweight title contender, who has jabbed at the featherweight champion on a few occasions while trying to land a fight with him in the UFC.
McGregor didn't let up with that one insult, however, as he then brought Diaz's salary into question while comparing their UFC paydays in recent fights.
"I'd love to be there to see it all, but unfortunately I'm out here grinding. Hard work pays as you can tell by looking at the numbers I brought in. By looking at everything that's going round. By looking at the boss man saying 'the first UFC fighter in history to make $100 million'. Hard work pays so take notes," McGregor said.
"Stop holding bitterness deep in your bum soul. Stuck on $20,000 to show and $20,000 to fight. I wipe my ass with that money. I tip your wage, Nate, yeah."
McGregor is currently in Ireland putting the final touches on his training camp to take on Rafael dos Anjos at UFC 196 on March 5, where he will attempt to become the first-ever, simultaneous two weight division champion in promotion history.
The fight comes just four months after McGregor finished former featherweight champion Jose Aldo with one punch in just 13 seconds at UFC 194 last December.
It looks like McGregor is predicting an even better year with another title fight on the horizon, but he still makes time to throw shots at those who decide to put him in their crosshairs.
"You thought 2015 was good," McGregor teased, "Wait until you see 2016."