Conor McGregor tells Nate Diaz to enjoy the moment while it lasts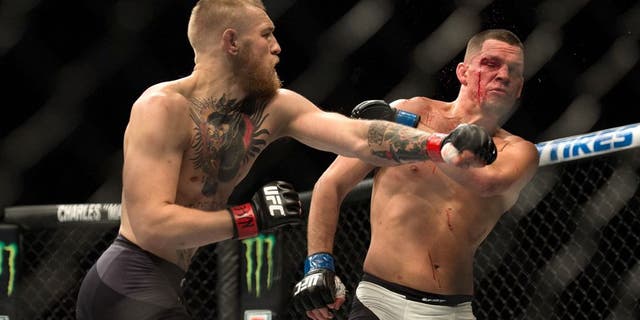 Conor McGregor hasn't had much to say since his UFC 196 loss to Nate Diaz but the Irishman is ready to do it again with a much different result this time around.
McGregor took to Instagram on Friday to congratulate and then taunt Diaz with a warning about what will happen when they face off in a rematch.
"It was a good knock. Enjoy it," McGregor wrote. "We'll see the next time."
McGregor and Diaz are expected to meet again in the main event at UFC 200 on July 9 in Las Vegas at the new T-Mobile Arena.
No official announcement has been made regarding the fight, but sources told FOX Sports last week that McGregor and Diaz had verbally agreed to the rematch pending a few other details before contracts could be issued.
McGregor's head coach John Kavanagh teased earlier this week that the featherweight champion's next fight would be announced in the coming days.
"I believe it is going to be announced this week," Kavanagh said on Thursday. "And, whoever it is there will be a group of fans that will go, 'Oh I didn't want to see that, I wanted to see this.' You know, no matter who you pick, there are gonna be people happy and there are gonna be people unhappy.
"The truth is when it is all said and done, fast forward three or four years when he is wrapping up his career, everybody will have been met. All styles will have been beaten."
Judging by McGregor's message on Instagram, it seems like he's already preparing for a second shot at Diaz later this year.
Diaz told FOX Sports earlier this week that he's interested in a rematch if that's what the UFC wanted to do and he was being compensated correctly.
"It's a real fight. Some people want to see that fight," Diaz said. "Obviously, it just happened -- it was a real fight. When you get a real fight, people appreciate it. If that's what he wants to do and that's what the UFC wants to do, let's run it back. Let's do it again."
Now it seems only a matter of time before McGregor and Diaz are confirmed for another showdown inside the Octagon.