Conor McGregor swears he actually almost won the Nate Diaz fight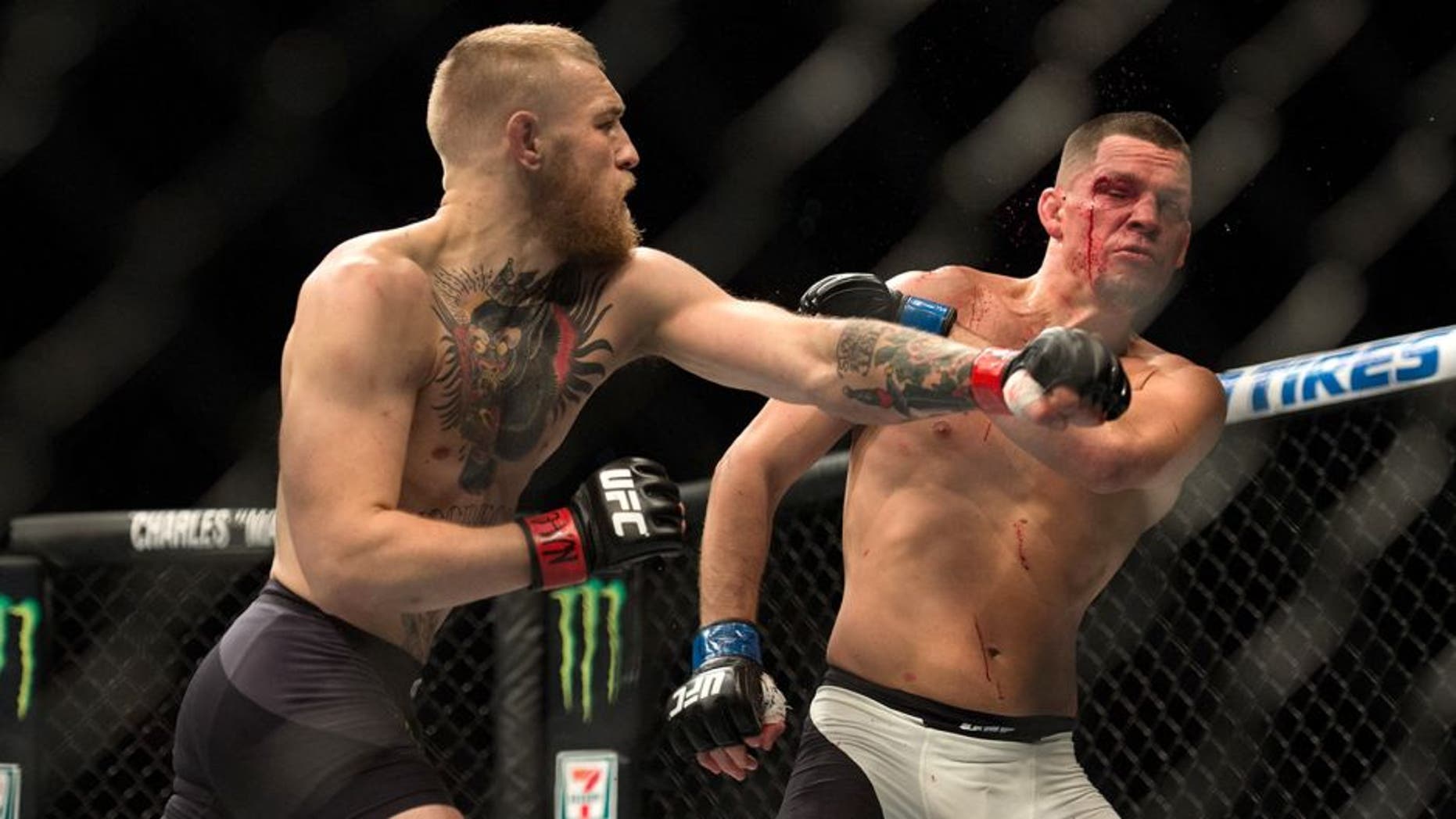 One loss isn't going to rattle Conor McGregor's confidence because the outspoken UFC superstar knows in the back of his head that Nate Diaz beat him due to his own mistakes leading into their first fight.
McGregor fell to Diaz by a second-round rear naked choke after the Stockton, Calif., native tagged him with a series of hard punches and the Irishman shot in for an ill-advised takedown attempt.
Diaz quickly countered and wrapped up the submission, but McGregor says he was only a couple of punches away from finishing the fight himself when his gas tank was depleted.
"The first eight minutes of the fight was easy," McGregor told ESPN recently. "Let's be honest, I slapped the head off him. Once the gas tank went, that was it. I drowned. He landed that one punch that rang the bell and went, '(Gasp,) I'm back.'
He was close to being done. One or two more shots and he would have been wrapped up. -- Conor McGregor
In retrospect, McGregor takes aim at his fight preparation that changed course after the bout with Diaz was moved to the welterweight division.
In the weeks leading up to the fight at UFC 196, McGregor was supposed to face lightweight champion Rafael dos Anjos, but an injury forced him off the card and Diaz was pulled in as a late replacement. McGregor then agreed to face him at 170 pounds and because he no longer had to worry about cutting weight, he stepped away from the nutrition that got him ready for a fight for the lightweight title.
"Swinging on gymnastic rings on fight week isn't the best thing. Usually, I wrap myself in bubble wrap and only do fight-specific things, but just because of that weight, no weight cut, I had put it in my head that, 'I'm free.' I had energy to burn," McGregor said. "I was doing so much bounce footwork, the balls of my feet were burned to a crisp. Looking back, it was ridiculous. I don't know what I was thinking.
"Look at me right now. Fish, red cabbage, asparagus -- I'm nowhere near a fight, and I'm on the clock with nutrition."
As of now, McGregor still hasn't been booked for his next fight, but all expectations are riding on a rematch with Diaz later this year once financial figures can be reached with both fighters.
The pair has been rumored for UFC 202 in August, but the fight is still far from a done deal as both McGregor and Diaz negotiate for a considerable piece of the pay-per-view pie that their rematch will undoubtedly draw.
In terms of the future, McGregor is focused on the rematch with Diaz for now but hasn't lost sight of the featherweight title that's still wrapped around his waist.
According to McGregor, he felt like the featherweight division didn't have anything to offer him after he beat former champion Jose Aldo, so he suggested an interim title be introduced so it would motivate him to return to 145 pounds and retake his throne with a new challenger standing in the way.
So now Aldo will battle Frankie Edgar at UFC 200 with an interim featherweight title on the line with the winner expected to face McGregor next.
"It was my idea. I wanted to have my revenge at 170, and they're crying and complaining about the 145-pound belt, which I just won three months ago. That division was killed, it was dead. Jose went down in 13 seconds. What more can I do? I traveled the world with that man. I finally got him in the Octagon, and he only lasts 13 seconds," McGregor said.
"I didn't see a challenge there anymore. So, I wanted to create interest from a fan's perspective and my perspective. I want to see them two go at it, with an interim belt on the line. Then I will see people walking around my division with a belt and that will intrigue me. It will make me want that belt again."