Conor McGregor says he only cares about 'the weight of them checks' at UFC 196 presser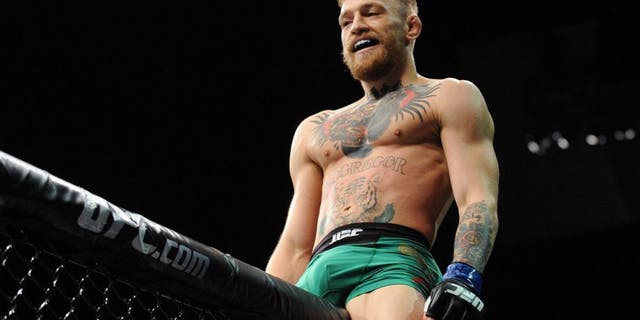 UFC featherweight champion/sentient brushfire Conor McGregor is not worried.
He's not concerned he has a new opponent for UFC 196. He's not concerned about Nate Diaz, who has agreed to sub in on two weeks' notice for Rafael dos Anjos, who suffered a broken foot in training.
Least of all is the weight.
Conor McGregor doesn't care he'll be fighting as a welterweight -- two tiers heavier than the class in which he's carved out his reputation as a mixed martial arts savant. The only thing McGregor is concerned about is the heft of the check he'll be peeling off Diaz's jawline at the MGM Grand on March 5.
Speaking at a press conference on Wednesday, McGregor brushed off any questions about the challenges fighting as a welterweight might present. As he made plain, Conor McGregor is solely about that shmoney.
Per 560 WQAM's Alex Donno:
That line is one-part boast, two parts Young Jeezy lyric. So it's very much in line with the general timbre of McGregor's trash talk, which tends to have less in common with traditional fight-slander than it does early 2000s rap beefs.
At this clip, McGregor might be dropping Mobb Deep lines by weigh-in.
Dan is on Twitter. You could put your whole army against his team and I guarantee it'll be your last time tweeting.