Conor McGregor refutes reports about starting his own promotion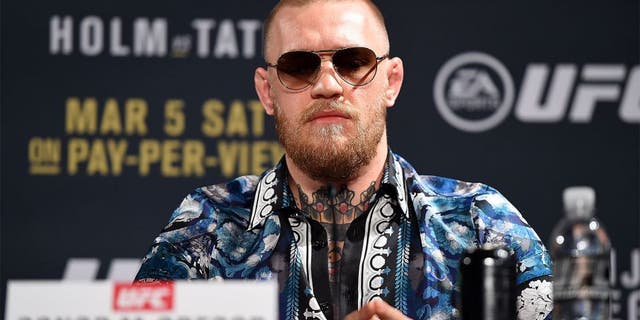 Prior to UFC 196 becoming official, rumors began to swirl that the show's announcement was delayed in part because featherweight champion Conor McGregor was at odds with executives about his salary and payday for the main event against Rafael dos Anjos.
McGregor has become the biggest draw in the sport over the past year while drawing massive numbers at the box office and on pay-per-view so it stands to reason why he's also one of the highest paid athletes on the roster.
While McGregor certainly demands a heftier salary that most fighters, he refutes the idea that he's at odds with UFC owners Lorenzo Fertitta and Dana White while also striking down the notion that he might eventually forge his own path as promoter in a similar move to what boxing king Floyd Mayweather did several years ago.
"It's all horse s--t that is. I have a great relationship with Lorenzo (Fertitta), I have a great relationship with Dana (White)," McGregor said in a recent interview with Severe MMA. "Don't get me wrong, I'm climbing that corporate ladder every damn day and we will be neck and neck. Maybe one day I will take that lion's share but we will always be together."
McGregor has preached loyalty since the first day he arrived in the UFC and while he has reserved that term when speaking about his teammates and coaches in the past, he says that also applies to the promotion that gave him the platform to become one of the highest paid athletes in the world.
McGregor may have grown to become one of the biggest draws in the sport but he also knows none of that happens without the UFC.
"Loyalty is what I have. They gave me this, they are helping me with this, and I am helping them. We are a team," McGregor said. "So much respect to Dana, much respect to Lorenzo, much respect to everyone involved in the UFC. I'm not trying to break out. I'm just trying to grow, be eye-to-eye and get my f--king share of the pie and that's it. They know that.
"I will always be in association with Zuffa and the great team at the UFC. It's an honor to grow with this company."
As far as the future goes, McGregor is only predicting that his career will get bigger and the UFC will grow alongside him.
He's already breaking records for paid attendance as well as fighting at two of the biggest pay-per-views in UFC history over the past year.
McGregor has stated numerous times that he wants to break all of the previous boxing records currently held by Mayweather, including his mega-fight from a year ago against Manny Pacquiao that stands as the gold standard for live gate (over $72 million) and total buys on pay-per-view (4.4 million).
McGregor knows he's not there just yet, but he says it's only a matter of time before he's knocking on the door and then burning the house to the ground with even more eye popping numbers to add to his resume.
"Hollywood are all over it now. Hollywood wants a piece of this. That crowd will start to filter in and the gates will continue to rise as the American audience continues to lap up, I feel I'm touching markets the UFC have never touched before," McGregor said.
"We'll continue to rise, continue to grow and see where it goes but the sky is the limit."