Conor McGregor promises to retire Eddie Alvarez at UFC 205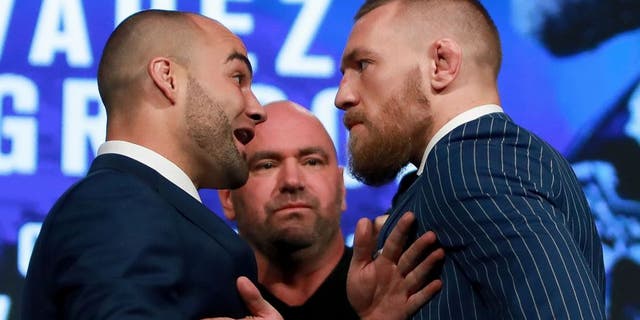 Conor McGregor isn't just promising a win at UFC 205, he's promising to put an end to Eddie Alvarez's career.
The reigning featherweight champion erupted during a media conference call on Thursday while talking about Alvarez and how he sees this fight playing out.
Alvarez has been an incredibly durable fighter throughout his entire career, only succumbing to strikes one time in his entire career and that happened when he was still competing as a welterweight in his 11th professional fight.
McGregor is emphatically predicting that he'll add another knockout loss to Alvarez's resume when they finally step into the Octagon on Nov. 12 in New York.
"He's claiming it's an easier contest. I look forward to when the eyes shift, when the eyes roll, and the electric shock goes through his whole body and he goes to his knees and then he comes up and he's in survival mode and that panic sets through his whole body, his whole face, that's something that I look forward to. I will punish him for that, for those words that he's saying. I'm going to retire him on this night," McGregor said.
"He's been through a hell of lot of wars. He's been dropped continuously. I can see it in him. You can see the effects of war on his face and respect to him, he's a fighter. Nothing but respect, but this will be it for you. You're going to be badly, badly hurt Eddie, and I mean that. It's over for you. You will not fight again after this. You'll not look the same. You'll not think the same and that's it."
McGregor continuously prodded at Alvarez during the call, talking about all the different ways he's going to hurt the current lightweight champion when they finally meet.
He even went as far as invoking Alvarez's wife and children when speaking about the numerous ways he plans to mangle the Philadelphia native and send him packing back home with a long list of injuries and no title to comfort him when it's over.
"I'm going to toy with this man and I'm going really, truly rearrange his facial structure. His wife and kids won't ever recognize him. His friends, the people that he knows will know that he's not the same after this contest. He's going to be in a shock when he sees that," McGregor said.
I'm going to go out and paint many, many pictures in this contest, put on a showcase, toy with this man and end it all. End his whole career. Retire him. It's over for him. He should be done anyway. He's taken too much damage. This will be his last amount of damage that he'll be able to take. You're never, ever, ever going to be the same. Ever again in your life. Your kids after this fight are going to beg you 'daddy, please don't go again.'"
When the fight was first announced and introduced at the UFC 205 press conference, McGregor predicted that he would finish Alvarez inside one round.
Considering the amount of damage he's claiming to dish out when they actually fight, it might sound like McGregor is planning on this matchup going past the first five minutes, but that's not the case.
McGregor doubled down on his earlier prediction and says that Alvarez will be lucky to survive the first round, but he's ready for anything that may unfold.
"I believe first round. I know he's durable, I don't believe he's been hit by anybody like me," McGregor said. "I don't believe he will survive. If he does survive and be in that survival mode, then I'm going to toy with him, I'm going to rearrange his face for his words that he's speaking right now. I still can't see him lasting one round."
For his part, Alvarez's response to McGregor saying that this will be his last fight was fairly simple and to the point.
"You're so full of (expletive)," Alvarez said.