Conor McGregor plans to defend featherweight title next, likely against Aldo or Edgar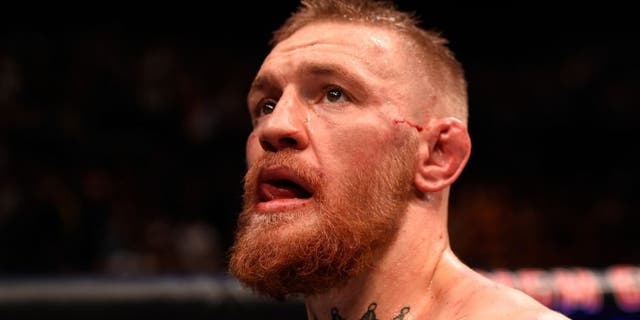 Following a second round submission loss to Nate Diaz at UFC 196, Conor McGregor believes his next move will be to return to the featherweight division where he will defend his title for the first time later this year.
McGregor came up short against Diaz, who accepted the fight on short notice after lightweight champion Rafael dos Anjos was forced off the card due to injury.
It's the first time McGregor has tasted defeat since joining the UFC roster, but despite the setback, he knows there's still a way to add another title to his resume -- it just might take him a little longer than expected.
"I know there's a lot of people celebrating this in the featherweight division," McGregor said at the UFC 196 post fight press conference. "There are many people celebrating another man's victory. It's something that I cannot understand how somebody not above can celebrate another man's victory. At the end of the day, I am the featherweight world champion. I feel it is right to go back down and remind them of what I achieved and what I did to that division. But I am not forgetting about the 155 pound division. I am not simply forgetting about the 170 pound division.
"I think next probably go back down and defend my featherweight crown."
Obviously the loss is still fresh in his mind, but McGregor sees two possible options for his return to the featherweight division when he defends his title next.
Former champion Jose Aldo is one potential opponent and top ranked contender Frankie Edgar would appear to be the other.
"It's kind of hard not to give Aldo another go," McGregor said. "He was 10 years undefeated but he pulls out a lot, he doesn't show up a lot. Frankie at least gets in there and competes. I don't know. I'll keep my ear to the ground and see who the fans want to see the most. What are the fans most interested in to see me defend the belt against."
McGregor did have a few words for Aldo, who unleashed a venomous Twitter post aimed at the featherweight champion following his loss on Saturday night.
"He had an opportunity to show up here and he didn't. He could be sitting where Nate's sitting right now. He was the first choice," McGregor said about Aldo. "He said any time, any place, anywhere and then it wasn't any time, any place, anywhere. Now another man gets a victory over me and he celebrates it. That's the sign of a loser. That's the sign of a runner-up. That's not the sign of a champion."
As far as timing goes, McGregor hasn't really had much of a break over the past year with one of the most active schedules on the UFC roster, but considering the magnitude of the cards that are coming up this summer, he'd have a hard time not taking one of the top spots.
"I haven't stopped in a long time. It's been a crazy couple of years. I've really only burst onto the scene and climbed all the way, but I'm still really enjoying it. I'm not really tired of it. Now going back down to the featherweight division I'd imagine what is next. I still feel UFC 200 is there for me," McGregor said.
"I'm not cut, I'm simply heartbroken and that's it. I'll pick myself up and we'll figure it out in the morning."
McGregor promises that he will come back better than ever when he returns to the UFC later this year. The loss to Diaz was obviously a surprise and devastating to his short term plans to conquer multiple divisions within just a few months, but McGregor is determined to climb back up the ladder and regain the top spot in several weight classes at some point down the road.
"This is the game. We win some, we lose some," McGregor said. "I will never shy away from a challenge. I will never shy away from defeat. This is part of the game. I am happy to come out there, continue and stay in this fight. I had many chances to not do this and sit and wait but I went in, I took the fight and it didn't pay off. This is the fight business. It's another day, I'll come back.
"I will climb back up and make my case for that second belt again."