Conor McGregor makes the list of Forbes' 100 highest paid athletes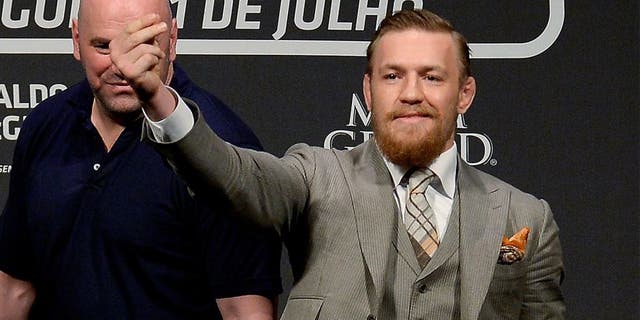 NEWYou can now listen to Fox News articles!
Forbes released its list of the 100 highest-paid athletes in the world this week, with a slew of notable names from football, soccer, basketball and other sports around the world.
Among those names at No. 85 this year was UFC featherweight champion Conor McGregor, who made a reported $22 million between his fight purses and his endorsements over the past year.
According to Forbes, McGregor made an estimated $18 million in salary and fight earnings from the UFC, with another $4 million in endorsements.
No MMA fighter has made the list over the past few years, although Ronda Rousey did make the top 10 for women's athletes in 2015, but she fell short of the top 100 overall.
McGregor was the only MMA athlete to make the list in 2016, although Rousey did appear on the highest-paid female athletes list again, with $14 million in reported earnings.
According to the list, McGregor's pay lands him above several notable athletes, including Boston Red Sox slugger David Ortiz and boxer Canelo Alvarez.
The No. 1 earner in 2016 was soccer superstar Cristiano Ronaldo, who made a reported $88 million between his salary and his endorsement deals. Boxer Floyd Mayweather, who routinely sat atop the list in previous years, came in at No. 16 this year, with $44 million overall.