Conor McGregor makes history winning 2nd UFC title after knocking out Eddie Alvarez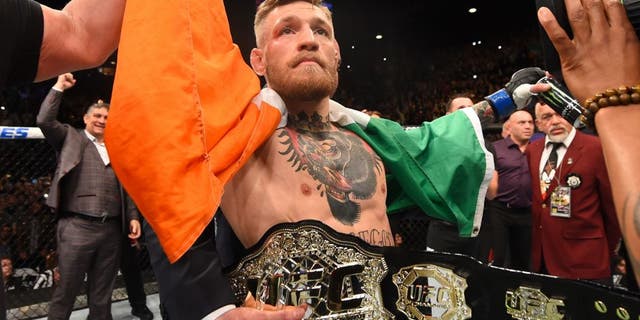 NEW YORK -- Conor McGregor just continues make history.
On Saturday night in front of a sold out crowd at Madison Square Garden in New York, McGregor knocked out Eddie Alvarez in the second round to become the first simultaneous two-division champion in UFC history.
This fight came less that one year after McGregor earned the fastest finish in UFC title fight history when he knocked out Jose Aldo to claim the featherweight title in just 13 seconds.
McGregor put on a flawless performance as he absolutely decimated Alvarez from start to finish to claim the lightweight belt to add to his growing collection.
It was a jaw-dropping showing from McGregor as he stalked Alvarez around the cage, using pinpoint accuracy and deadly power to get the job done.
As the fight got underway, Alvarez tried to exert his dominance by going after the Irishman with forward aggression, but he quickly paid for it as McGregor dropped him with a lightning-quick left hand that flattened the Philadelphia native.
It appeared McGregor might get a first-round finish, but Alvarez was able to survive the knockdown and get back to his feet.
He wasn't standing for long, however, as McGregor ended up putting Alvarez on the canvas twice more during the opening round as the raucous crowd stood on their feet continuously throughout.
Possibly the most impressive part of McGregor's first round was the control and patience he showed by not chasing Alvarez, but instead allowing the shots to come to him. Every time Alvarez stepped forward, McGregor countered with surgical precision just peppering him with hard, stinging shots.
As the round ended, Alvarez went back to his corner searching for answers, but as it turns out he found none.
The second round went much like the first as McGregor quickly tagged Alvarez with a hard punch that dropped him to one knee. No matter where Alvarez turned, McGregor was just too fast with his counters.
Finally with Alvarez on wobbly legs, McGregor saw an opening to finish the fight with another devastating combination that sent his opponent crashing to the mat. This time, McGregor followed him to the floor where he landed a few more strikes and referee John McCarthy saw more than enough to stop the fight and save Alvarez from absorbing any more damage.
McGregor threw his hands in the air as the New York crowd absolutely erupted in celebration as he was crowned the new UFC lightweight champion.
"Eddie is a warrior but he shouldn't be in there with me. I am a different level. Now, I celebrate as champion of two divisions," McGregor said.
"I've spent a lot of time, slaying everybody in the company. I've ridiculed everyone on the roster. I just want to say from the bottom of my heart, I'd like to take this chance to apologize to absolutely nobody!"
McGregor has said a lot since he arrived in the UFC, but to date he's followed through on each and every one of his promises. Now he stands tall as the first and only fighter to ever hold two titles at one time.