Conor McGregor: Jose Aldo doesn't want to be here and can't wait for it to be over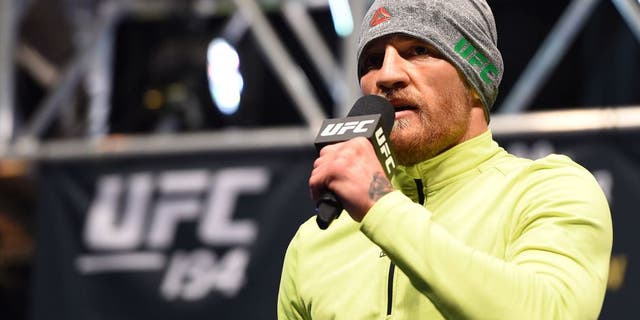 During the media world tour to promote their first scheduled bout, Conor McGregor stared down featherweight champion Jose Aldo numerous times over the course of a couple week.
During that time, McGregor noted that he looked into Aldo's eyes and saw a man already defeated and that beating him was really a formality at this point.
The fight never happened, but now nearly nine months after the world tour ended, McGregor came eye to eye with Aldo again this week in Las Vegas and he saw an eerily similar image staring him back in the face again.
"I feel he feels like he's handcuffed and forced into this. He doesn't want to be here," McGregor told FOX Sports on Thursday. "I feel the man is forced to do this. That's what I feel.
"I feel he's confused, he doesn't know where he is, he doesn't know what's going on, he just can't wait for it to be over. That's what I seen when I looked at him yesterday."
McGregor has been ultra confident in his path to victory over Aldo ever since he first arrived in the UFC, but now with the fight just a matter of days away he's doubling down on his prediction that the bout won't go past the first round.
McGregor has been nothing but impressive through his first few fights with the UFC including a TKO victory over Chad Mendes in his last bout in July at UFC 189.
In the moments directly after that fight happened, McGregor paid respect to Mendes for stepping up and facing him on two weeks notice following Aldo's withdraw due to injury.
Those pleasantries eventually melted away, but at the time McGregor had no problem giving Mendes his due for a tough fight and for showing up when Aldo refused.
Now that he's finally matched up with Aldo and the fight is set to happen in just about 48-hours time, is McGregor willing to concede respect for the only featherweight champion the UFC has ever known?
Well, maybe.
"Respect for me is earned through battle," McGregor said. "If he shows up, fights with his heart, he'll earn my respect, but I cannot respect a man who has ran, who has evaded.
"If he stands in front of me in the Octagon and gives me the exchanges he says he can, he will earn my respect."
McGregor already stated in a previous conference call that despite all his harsh words aimed at Aldo over the past year, he's more than happy to let bygones be bygones and shake his hand when the fight is over.
"I am always respectful, free, unopposed, I touch the glove before the fight begins. I won't touch the glove when the referee waves us in to fight, and then I'll touch the glove after the fight when it's all said and done," McGregor said.
"This is business. On December 12th, two nations will collide, but peace will be restored through battle."