Conor McGregor: I nearly turned down 'The Ultimate Fighter'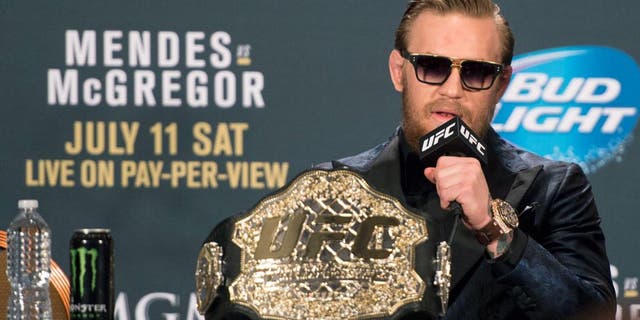 With filming wrapped, the new season of "The Ultimate Fighter" is just weeks away from debuting on FOX Sports 1 with coaches Conor McGregor and Urijah Faber leading their teams, but the show nearly fell apart after featherweight champion Jose Aldo dropped out of UFC 189.
According to McGregor, who will coach the show for the first time ever, he was asked to do "The Ultimate Fighter" weeks ahead of his scheduled title bout in July, but it was supposed to be opposite Chad Mendes instead of Faber.
The entire scenario changed when Aldo suffered a rib injury that forced him to withdraw from the fight and Mendes got plugged in as a late-notice replacement to help save the card.
McGregor ultimately dispatched Mendes by second-round TKO, but it left the reality show without a second coach until Faber got the call. Unfortunately by gaining Faber, the series nearly lost McGregor.
"Before the fight I was excited. A few weeks before hand there was a few different options. Potentially it should have been, Jose (Aldo) should have showed up and it should be me coaching against Chad (Mendes) for the next fight. That was the original plan," McGregor explained when speaking to FOX Sports in Las Vegas.
"Then obviously what happened, Jose pulled (out) and it just threw the plans up into the air. Then, they give me Urijah (Faber) as the coach, they won't let me fight him, so my energy was gone from it. I did not want to do it. It did not mean anything to me."
McGregor lost interest in doing the show after the changes that had to be made, not to mention his desire to fight the other coach when the series was over.
Obvioiusly, McGregor eventually came around and opted to do "The Ultimate Fighter" but what changed his mind? McGregor explains in this exclusive interview ahead of the series debut on September 9 on FOX Sports 1.