Conor McGregor: I am the pound-for-pound No. 1 fighter in the world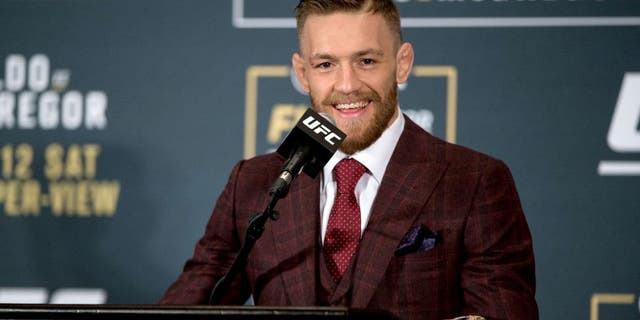 Following his 13-second knockout of Jose Aldo at UFC 194, new undisputed featherweight champion Conor McGregor already believes that he's at the top of the mountain when it comes to the best pound-for-pound fighters in the sport.
It's difficult to argue with his logic considering McGregor dispatched Aldo with one punch after the Brazilian stayed undefeated for nearly a decade while defending his UFC title on seven occasions.
Aldo was ranked No. 1 pound-for-pound in the sport prior to Saturday night and McGregor doesn't see another option after he put him away with the fastest finish in UFC title fight history, eclipsing Ronda Rousey's 14-second mark when she beat Cat Zingano earlier this year.
"I believe so. I believe there are many great fighters. There are people who do great things. But when you combine it all together, when you combine the whole package, the whole animal, that is the fight game, I don't think there's nobody that does it better than me," McGregor told FOX Sports.
"I think I am the pound-for-pound No. 1."
McGregor called his shot for months before the fight with Aldo saying that he would put him away inside the first round, but no one tuning in on Saturday night truly believed it could happen with one punch and one exchange.
Well, one person believed it.
"Yeah, many times," McGregor said about envisioning a one-punch knockout. "It's not the first time I've done that. I have a four second KO on my resume, now I have a 13-second (KO) and I also have a 16-second (KO). I have many early stoppage wins. I feel I have the shots and I have the timing and I have the precision.
"Again, with these small gloves and with the correct amount of force and correct timing the human chin can't take it. I said one round. He was currently the No. 1 pound-for-pound fighter on the roster, undefeated in 10 years, the company's only featherweight champion. Who comes in and predicts one round KO's and I did."
If McGregor needs to further cement his spot as the top pound-for-pound fighter in the sport, his next fight might help solidify that ranking because just moments after finishing Aldo, the Irish superstar has already considered moving up to lightweight to face the winner of next weekend's main event between Rafael Dos Anjos and Donald 'Cowboy' Cerrone.
McGregor has said since his arrival in the UFC that he wanted to one day become a two-weight class champion while holding both titles simultaneously. UFC president Dana White confirmed that if McGregor goes up to 155-pounds, he would receive an immediate title shot against whoever is the champion.
From the sound of things, McGregor is more than willing to do it, but he's going to enjoy his Christmas first, cash the massive payday he will have coming from this event and then make a decision on where his future lies.
"I wasn't considering leaving the featherweight division for good because I am the unified world champion. This is my division. I say what I do now," McGregor said. "There's a couple of contenders in the mix, let them maybe compete against each other while I go up and take the lightweight belt, allow a contender to emerge, then go back down and take out that contender and then go back up after a lightweight contender has emerged and take out that contender. That was what my career path I felt was taking shape.
"Now Frankie (Edgar) had a good win yesterday so he could probably climb up as an early contender already. We've some options, we've some decisions to make. Most certainly I am looking to replicate what I have achieved in my previous promotion in a two-weight world champion. Held both belts consecutively. I said I would do it and I will do it."