Conor McGregor: Hopefully Jose Aldo shows up, relinquishes the belt and retires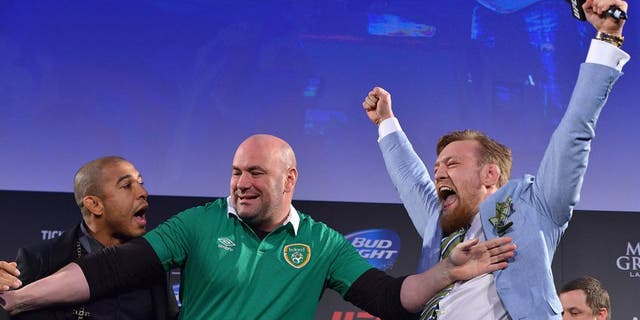 NEWYou can now listen to Fox News articles!
Months before UFC 189 happened, Conor McGregor was quoted as saying that he wasn't sure featherweight champion Jose Aldo would actually show up for their fight on July 11.
McGregor's Nostradamus-like powers proved true after Aldo was forced to pull out of their bout due to a rib injury. McGregor stayed on the card and ultimately knocked out Chad Mendes in the second round to win the interim UFC featherweight title.
Now the outspoken Irishman is set to face Aldo once again in the main event at UFC 194 on Dec. 12, but is he willing to make the same kind of prediction about the fate of this fight?
Well, this time around McGregor isn't flat-out saying Aldo won't show up, but he's promising that he will be standing in the center of the Octagon on Dec. 12 no matter who is there across from him.
"If he never shows up, that's not on me -- that's on him," McGregor told FOX Sports. "I do feel like this is the real belt. I feel like he was more than capable of showing up to fight. If he doesn't show up, that's not my business. I'll show up, I'll be there like I was July 11.
"Of course I would like him to show up and be a man and take his beating like a man."
For the last fight scheduled between Aldo and McGregor, the UFC sunk more money into promoting the bout than any other card in promotion history.
There were elaborate commercials produced that cost nine figures and the advertising budget was through the roof for what the UFC was predicting would be one of the biggest cards of all time -- and then the fight didn't happen.
With the fight between Aldo and McGregor still more than three months away, there's no telling what the UFC will do to promote the matchup this time around, but considering what happened the last time it's understandable if the investment isn't the same for UFC 194.
McGregor can't ignore the possibility that injuries happen and Aldo could be forced to pull out of their fight a second time, but he hopes deep down that he can settle the score with him once and for all.
And then he gives Aldo permission to retire.
"Of course that's scary. You go through all this again and he pulls out again. But there are other questions that will still be asked. The show will go on," McGregor said. "Hopefully, he will man up and show up and relinquish the belt and be done with the career."