Conor McGregor gets into backstage altercations with Tyron Woodley and Khabib Nurmagomedov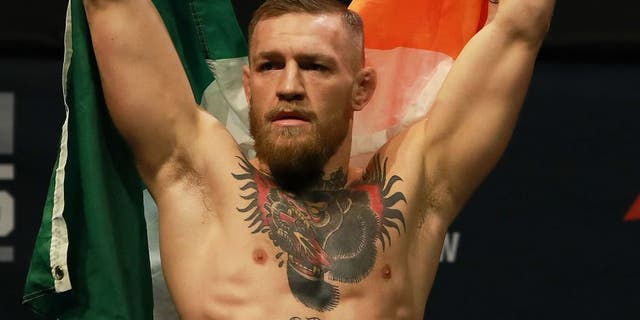 NEWYou can now listen to Fox News articles!
NEW YORK -- Conor McGregor has no shortage of potential opponents after UFC 205.
Following a brief confrontation with Tyron Woodley on Friday morning at the early weigh-ins, McGregor got into it with the welterweight champion again on Twitter afterwards.
That wasn't the end of it, however, after McGregor once again confronted Woodley back stage at the ceremonial weigh-ins at Madison Square Garden.
The video posted by McGregor's teammate and retired UFC welterweight Cathal Pendred showed the featherweight champion shouting at Woodley as security stayed between the two fighters.
WARNING EXPLICIT LANGUAGE
"With your little camera phone (expletive). You're like a woman with that phone. (Expletive) (expletive)," McGregor shouted.
Woodley didn't say anything in return, but instead just minded his own business as McGregor spouted off at him backstage.
The entire incident erupted after Woodley posted a video from the UFC 205 pre-fight press conference stage after McGregor picked up a chair and threatened to throw it at lightweight champion Eddie Alvarez.
It's clear the post bugged McGregor enough that he went after Woodley twice on Friday.
That wasn't all that happened as McGregor also had words backstage with No. 2 ranked lightweight contender Khabib Nurmagomedov as well.
This video was posted after the weigh-ins concluded showed McGregor shouting at Nurmagomedov after he stepped onto the scale for his fight with Michael Johnson on Saturday night.
According to Nurmagomedov's manager Ali Abdel-Aziz, who spoke with FOX Sports after the incident, the Russian lightweight locked eyes with McGregor backstage before the two fighters engaged in a few words.
"I will smash your face," Nurmagomedov told McGregor according to his manager.
Security intervened before things got too out of hand and Nurmagomedov and his team left the arena shortly thereafter.
McGregor has his sights set on the lightweight title with his bout against Alvarez and there's a chance his first defense could come against Nurmagomedov depending on how things play out on Saturday night.
Clearly judging by the weigh-ins, McGregor will have plenty of potential opponents to choose from.