Conor McGregor compares his star power to Ronda Rousey's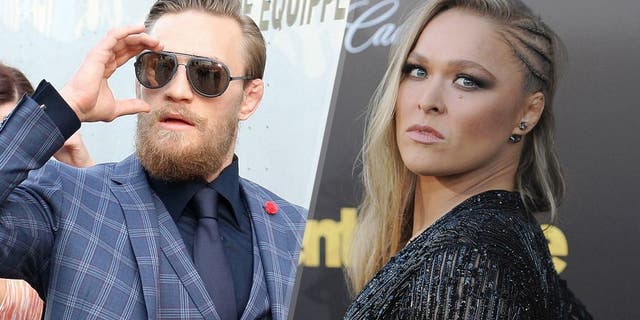 NEWYou can now listen to Fox News articles!
There's little debate in 2015's spectrum of UFC superstars that Conor McGregor and Ronda Rousey are the two biggest draws in the sports.
McGregor helped boost UFC 189 to some of the best numbers the entire year, and then Rousey topped it with her fight in Brazil against Bethe Correia less than a month later.
When it comes down to the fights themselves, McGregor knows people have far more questions about whether or not he'll come away victorious, whereas Rousey has been setting the women's bantamweight division on fire, dispatching contenders with sub-one-minute wins and in record time.
"Ronda's just so dominant, and she's slaughtering these women ruthlessly and maybe that's why people feel that way. Really, I feel we are -- both of us are -- at the top of the game," McGregor told FOX Sports. "She's a special athlete and I'm a big fan and always have been."
Rousey's next fight at UFC 193 in Australia is expected to break all-time attendance records with more than 56,000 fans heading to Melbourne to see her fight against Holly Holm.
Meanwhile, McGregor will finally face Jose Aldo to unify the UFC featherweight titles on Dec. 12 at UFC 194 in Las Vegas in what is expected to be another massive show for the promotion.
All told, between four cards in 2015, McGregor and Rousey could boost the UFC to one of its most successful years in history -- and if that's not proof of their drawing power, nothing is.
"The interest for her fights is absolutely phenomenal as well as mine now," McGregor said. "I'm happy to be up there with Ronda running the game."