Conor McGregor cloned? Tom Lawlor impersonates 'Notorious' at UFC 196 weigh-ins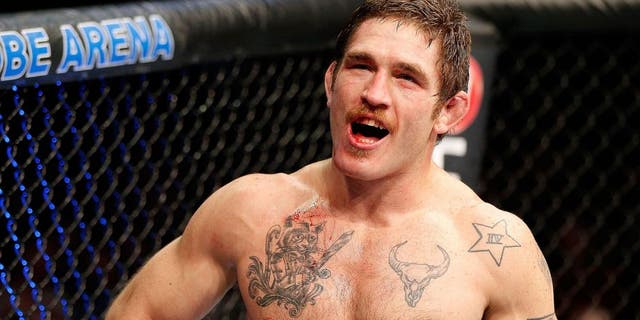 For years, Tom Lawlor entertained UFC fans not just with his gritty and impressive fights, but also with his inventive and hilarious weigh-in and entrance costumes and tributes. The charismatic grappler has impersonated everyone from Hulk Hogan to MMA legends like Dan Severn and Genki Sudo and even the infamous, unknown "Just Bleed" early UFC fan.
The Reebok uniform deal would have appeared to put a crimp in Lawlor's creative style, however. He's finding creative and funny ways around it, however.
This past summer, Lawlor wore layers upon layers of Reebok clothing to the stage at weigh-ins, which took him quite a long time to take off. The joke was subtle, but fantastic. Friday, Lawlor didn't violate the uniform policy, but still managed to pull off another solid impersonation.
Above, watch Tom Lawlor as UFC 196 headliner Conor McGregor in the video above. To pull off the look, Lawler grew his hair out, braided it, and pasted a print out resembling McGregor's gorilla chest tattoo on his own torso.
Once his opponent Corey Anderson squared up with him, Tom McGregor, also struck a characteristic "Notorious" pose - horse stance, lead arm extended out, long, hand in Karate chop-ready position. Anderson didn't appear amused, but the rest of us were.