Confirmed: Brian Vickers to replace injured Tony Stewart at Daytona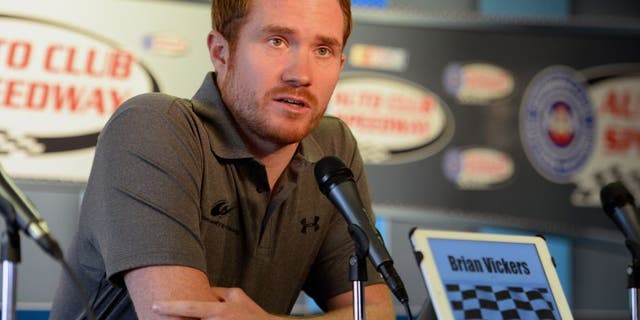 Tony Stewart's replacement at Daytona International Speedway will be someone that virtually no one expected.
FOXSports.com's Tom Jensen has confirmed that Brian Vickers will drive the No. 14 Stewart-Haas Racing Chevy throughout Speedweeks.
Ty Dillon will also drive the No. 14 at some point, FOXSports.com has learned.
SHR announced Wednesday morning that the organization will formally announce the identity of Stewart's Daytona substitute during an 11:30 a.m. ET news conference Friday at the track.
Sidelined after a recurrence of blood clots last March, Vickers competed in just two races before going off the grid due to medical issues of the fairly serious nature for the fourth time in his career.
Vickers, 32, first developed blood clots in 2010 while driving for the now-defunct Red Bull Racing. He competed in only the first 11 races that year. Three years later, the Thomasville, N.C., native missed the final four races of the season with blood clots in his calf, and he missed the first two races of this year while he recovered from offseason heart surgery.
Last January, doctors cleared Vickers to race again, only requiring that he must sit out the season-opening Daytona 500 and the following weekend's event at Atlanta Motor Speedway.
After Vickers returned to the seat of his No. 55 Michael Waltrip Racing Toyota for the races at Las Vegas and Phoenix, MWR announced on the Friday of the Auto Club Speedway race weekend that Vickers' blood clots had returned and that the driver was taking a blood-thinning medication to treat the clots and wouldn't be allowed to race while taking the thinners.
Two days later, Vickers told reporters at ACS that he would miss at least three months. It was later announced that David Ragan would be in the No. 55 for the rest of the 2015 season after taking over the car at Kansas Speedway in mid-May.
Stewart suffered a burst fracture of the L1 vertebra on Jan. 31 when a sand rail he was driving on the West Coast near the California-Arizona border landed wrong, compressing its shock absorbers.
The three-time Sprint Cup Series champion was wearing a six-point harness and a helmet at the time of the accident.
Stewart is expected to make a full recovery, but no timetable has been given for his return to competition.